APSU Sports Information

Clarksville, TN – A rejuvenating 13-day break might've been just what the doctor ordered for Austin Peay State University men's basketball, which picked up its first win in a post-Ohio Valley Conference Tournament appearance since 2003 with an 80-66 victory against Sun Belt foe ULM, Thursday, in the first round of the CollegeInsider.com Tournament.
The win pushes the Govs (19-14) onward into the CIT, with the Warhawks (16-16) 2017-18 campaign coming to an end.
The Govs raced out to an early lead thanks to a 10-0 run, with senior Averyl Ugba pacing the attack; he hit a pair of early three-pointers en route to a 16-point first half.
Putting together his 13th consecutive game in double figures allowed Ugba to do his part to ensure he would play at least one more game in an Austin Peay uniform.
If Ugba was getting the points, it was because his freshman teammate was doing everything in his power to control the glass in the first half.
Terry Taylor pulled down 10 first-half rebounds, and had more than the entire ULM squad with less than nine minutes to go in the half; he led a spirited first-half attack on the glass that saw the Govs outrebound the Warhawks by nine over the game's opening 20 minutes.
The Govs pushed the pace for much of the half, and never more than in its final few seconds, when senior Tre' Ivory went the length of the court for a scooping layup, sinking the shot and giving the Govs a 41-29 lead at the break.
A curious game of cat-and-mouse ensued in the second half; ULM would threaten to whittle down the lead, getting as close as nine at one point, before Austin Peay would surge comfortably back in front, never leading by more than 16 points. Both teams shot an identical 50.0 percent in the second half, each securing 16 rebounds, with APSU hitting one more three (three to ULM's two) and the Warhawks one more free-throw (nine to Austin Peay's eight) over the final 20 minutes.
The Difference
Eleven Austin Peay turnovers yielded just 12 points for ULM, while the Govs turned 17 Warhawk miscues into 22 points on the other end. This marked the sixth time this season Austin Peay outscored an opponent by 10 or more in points off turnover, its first since December 28th against SIU Edwardsville.
Notably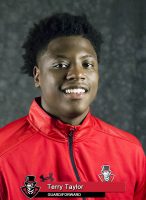 The Govs are now 4-0 all-time in home post-OVC tournament action.
With the win, Austin Peay has now won 19 games in head coach Matt Figger's first season, the most under a first-year head coach since Dave Aaron won 23 games in his 1946-47 debut.
Taylor finished with 15 rebounds, his 13th time posting double-figure rebounds in his first Austin Peay campaign. With seven offensive boards, he now has 128 for the season, the eighth-highest figure by a freshman across Division I since 2009-10. With 11 points, he also secured his season's 11th double-double—extending his OVC freshman record—and needs one point to become just the second freshman in APSU history with 500 in his first season.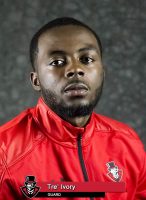 The Govs are now 13-1 this season when outshooting their opponent, 17-3 when outrebounding their opponent, 13-1 when holding an opponent to less than 70 points and 9-1 when scoring 80 or more points.
Ivory had six assists and just one turnover; he now has a 9-to-1 assist-to-turnover ratio in the last three games.
Austin Peay committed a season-low 12 fouls.
The Govs have made seven or more three-pointers in five straight games, their longest such streak this season.
The Govs are outscoring opponents 18.0-6.7 on second-chance opportunities the last three games.
The Governors 19 wins have been by an average of 15.2 points per game.
In outscoring ULM 44-32 in the paint, the Govs outscored an opponent by double-digits inside for the first time since Morehead State, January 27th.
Junior Chris Porter-Bunton finished with 11 points, his 10th double figure scoring game in 2017-18. He's now seven points away from having 600 in his Austin Peay career.
Austin Peay has now won 13 home games, its most since the 2006-07 campaign.
Ugba earned game MVP honors after leading all scorers with 27 points; he's scored 20 or more points in his last three outings—the first Gov to do that this season—and is averaging 19.1 ppg since January 25th.
Coaching Quotables with head coach Matt Figger
On the postseason
"They're excited to be playing in the postseason and we're excited to be playing at home. If I'm not mistaken, we're going to play another at home on Wednesday night. I'll keep saying it, these kids put their hearts out for the community. These kids deserve to have people come watch them play, and I'm not backing off those words."
On pace
"We were able to get up and down the floor. Monroe's a fast team too; they're sneaky fast, they don't run much off makes, but off misses they're real quick. I was concerned about that, because we only had nine guys and our transition defense wasn't great. Keith Richard (ULM head coach) told me after the game that we're one of the most physical teams we've played all year, and that's a credit to our kids."
On postseason prep
"It's more about us now. When you're in the league—we've played OVC teams 20 times this year—teams get a feel for what you do. When we get outside the league and play, we're unique; 42 points in the paint, 17 forced turnovers, we're unique to college basketball. Now everybody wants to chuck up threes and let teams pass it around the perimeter, and we try not to do that. That's a benefit for us in tournament play."
Up Next for APSU Men's Basketball
Another home CIT contest is scheduled for 7:00pm, Wednesday, in the Dunn Center, with an opponent to be determined. Fans can purchase tickets starting now by visiting www.LetsGoPeay.com/Sporttix or calling 931.221.PEAY.