Austin Peay State University (APSU)

Clarksville, TN – Austin Peay State University (APSU) Beef Cattle Show Team members affectionately call the bull "Frank the Tank".
But competitors know the grand champion Simmental bull as Ace of Spades.
While both names capture the size and heft of the bull, they misrepresent his nature. This bull is no fighter. He's a Ferdinand.
"He's really laid back. He's a big puppy dog," Dr. Rod Mills, associate professor of animal sciences in the APSU Department of Agriculture, said.
No matter the name, or the animal's nature, the bull charged through first place and champion designations at beef shows this summer, which culminated with his winning division grand champion at the Tennessee State Fair. Frank also won overall grand champion bull at the Wilson County Fair, the state's largest fair.
His brother, Royal Flush, took reserve division champion in the same division. And his sisters, Dare to Dream and Betting on a Dream, also earned ribbons at the fair.
The four siblings came from the embryos of one cow, Ruby, who won reserve division champion at the 2017 Dixie National Livestock Show. Frank might compete in the 2019 national show.
Ruby is where Frank the Tank gets his calm nature.
"He's very gentle, she was very gentle," Mills said. "All these calves have inherited her personality even though they were raised by different mothers."
All From One Flush
Embryo transfer is an advanced reproductive technology that allows for more offspring from an elite cow. It starts with superovulation (which produces more than one egg in a cow), continues with insemination (often in vitro fertilization) and ends with flushing (or the removal of embryos from the donor cow) and transfer.
People often refer to the embryos that come from the process as belonging to the same "flush." Frank and his three siblings mentioned here are "flushmates." Their flushing and transfer happened in the spring of 2016.
"In that particular flush, Ruby produced 10-12 eggs, eight were fertilized, then we transferred them fresh into other cows," Mills said. "Students got to look at those under a microscope, so they saw (Frank) when he was about eight cells."
"That was one of the most interesting labs we have done."
The Brock Blick Fund of Excellence supports the APSU Beef Cattle Show Team and the advanced technologies described above. The fund helps APSU students learn the latest techniques.
"In theory some of these cows can have dozens of calves over the course of their lives, which means you can quickly change the quality of your herd, whereas if you try to breed them in over generations, it's a really slow way to make genetic progress," Mills said.
APSU Beef Cattle Show Team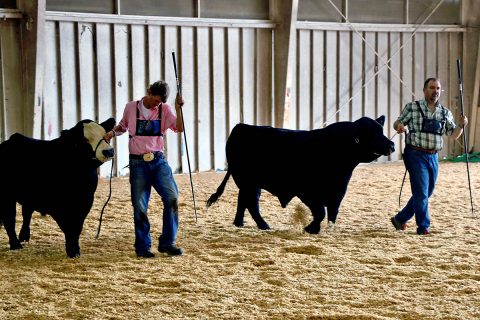 The Beef Cattle Show Team had four members at the state fair, Kristen Jensen, Tyler Davis, John Thomas Fussell and Colton Hudgins. Hudgins joined the team just before the state fair.
Davis has shown cattle since he was in sixth grade, and his heifer won Grand Champion female at the Robertson County Fair in August. He's about to graduate with an agriculture degree and wants to continue running his Montgomery County family farm.
Austin Peay has "helped show me a clearer vision of the economic side of this since I raise show cattle," he said.
"I volunteered with the APSU team a year before I enrolled," Davis added. The experiences and friendships I have made through this journey are something I will have for a lifetime."
Hudgins is a freshman from Robertson County studying agribusiness: "I plan on being able to manage a cattle operation after college dealing with the production of show cattle and producing top-of-the-line cattle.
"I have been around show cattle for around 10 years now, and I learn something new every day," he added. "The friendships you make along with the industry last a lifetime, and I would not trade that for anything."
Davis' family uses embryo transfer, and Hudgins said the practice is common for show cattle.
"The fact that these animals are flushmates is something special," Hudgins said. "It's very eye-opening to the public."