APSU Sports Information
Clarksville, TN – For the first time in 2018, Austin Peay State University's (APSU) volleyball team faced a two-set deficit, but a key change made all the difference as it rallied to defeat Tennessee Tech in five sets (25-27, 22-25, 25-11, 25-22, 15-8), Saturday, in Ohio Valley Conference action at the Winfield Dunn Center.
Tennessee Tech (9-15, 3-7 OVC) put Austin Peay on the ropes thanks to late rallies in each of the first two sets.
The Golden Eagles fended off a pair of late Govs runs that denied two set-point chances, scoring three-straight points to claim a 27-25 victory. In the second, TTU trailed 20-18 before using a 4-0 to gain a 22-20 lead and traded points with APSU to take a 2-0 lead.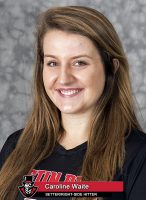 Austin Peay (20-3, 9-1 OVC) made a big change at the break, inserting Caroline Waite at setter.
The Govs offense went errorless in the third set and they used an impressive 10-1 run to take early control en route to an easy win. In the fourth, it was an 8-2 run midway through the frame that gave the Govs control and they fended off a late TTU rally to force the tiebreaker.
In the fifth, the Governors scored six of seven points to break an early 1-1 tie and take a 7-2 lead. Tennessee Tech charged back with four straight points but Austin Peay responded with the next four points to hold off the charge. The Govs scored the final four points to stay unbeaten at home in 2018.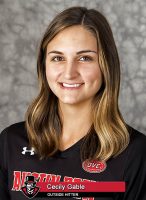 Waite finished with 27 assists and paced the Govs to a .337 attack percentage in her three sets of work while chipping in three kills, two blocks and a service ace. Cecily Gable finished with 16 kills while Logan Carger and Brooke Moore had 13 kills each.
Rachel Thomas led Tennessee Tech with 17 kills. Ali Verzani and Taylor Dorsey chipped in 14 and 12 kills, respectively.
Austin Peay continues its five-match homestand when it hosts UT Martin in a 6:00pm, Friday contest at the Dunn Center.
SET-BY-SET
SET 1, Golden Eagles Win 27-25

After early back-and-forth action, Tennessee Tech gained a small measure of control with a 4-1 run that gave it a 10-7 lead. However, the Govs would rally to tie the set again at 17-17 with its own 5-1 run, but the Govs could not take the lead.
TTU would get to set point at 24-23 after a Shaneice James kill and APSU fended off that chance with a Logan Carger kill. But James would give TTU another set-point chance and they closed out the set.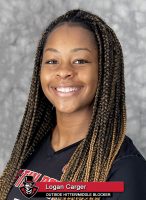 SET 2, Golden Eagles Win 25-22
Both the Govs and Golden Eagles threw big runs at each other early in the second, but neither team could gain control early. Austin Peay used a 7-2 run to build a 17-13 advantage and force a Tennessee Tech timeout.
Soon after the stoppage, the Golden eagles pieced together a 7-1 run to take a 22-20 lead and then was satisfied to trade side outs the rest of the way to take a 2-0 lead.
SET 3, Govs 25-11
Austin Peay took a big swing to try and jump-start its offense, bringing Caroline Waite off the bench. After fits and starts early on, the Govs broke out with a 5-0 run that was the opening salvo in a 12-2 set-clinching run. Austin Peay's offense responded to the change at setter with an errorless attack, scoring 14 kills on 29 swings for a .483 attack percentage.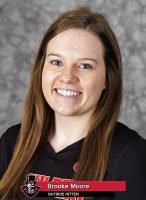 SET 4, Govs Win 25-22
Tennessee Tech tried valiantly to end the set in four, racing out to a 6-3 lead in the frame. But Austin Peay went on a long stretch where it traded two points for one, turning a 10-8 deficit into a 17-13 lead.
Tennessee Tech took one more run at Austin Peay, closing within a point thanks to a 6-2 run, but Brooke Moore posted a kill and followed it with a service ace to end the threat and the Govs clinched the set.
SET 5, Govs Win 15-8
The fifth set was decided early on with the Govs scoring seven of the set's first nine points. However, Tennessee Tech had one more rally left, scoring four straight to get within a point at 7-6.
But Cecily Gable posted a kill to send the teams to the changeover and the Govs scored the first three points after the switch of sides to take an 11-6 lead it would not relinquish.
APSU Govs, Notably
Waite A Minute
Sophomore Caroline Waite made the most of her three sets of action, setting career highs in assists (27), digs (7) and blocks (2) and the service ace was her second of the year.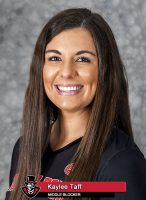 The Block Party Continues
Austin Peay's 13-block outing was its fifth consecutive double-digit block outing. Austin Peay is averaging 2.56 blocks per set over its last five matches. Senior Kaylee Taff has 23 blocks (1.05 per set) during the streak.
Unblemished At Home
The Governors remained unbeaten at the Dunn Center this season, improving to 8-0. Austin Peay has won its last 11 matches at home dating back to last season's OVC Tournament sweep.
Back From The Abyss
Austin Peay faced an 0-2 deficit for the first time in 2018. It was the Govs first victory when down 0-2 dating back to Oct. 28, 201 at SIUE. The Govs faced only one other 0-2 deficit between those two matches – at nationally-ranked UCLA in last season's NCAA Tournament.