American Red Cross
Nashville, TN – The American Red Cross has an urgent need for blood and platelet donors to give now to ensure blood is available for medical treatments and emergencies during the holiday season.
Blood and platelet donations often decline during the holidays. Regular donors are busy with holiday activities, and travel and severe winter weather may cause blood drive cancellations.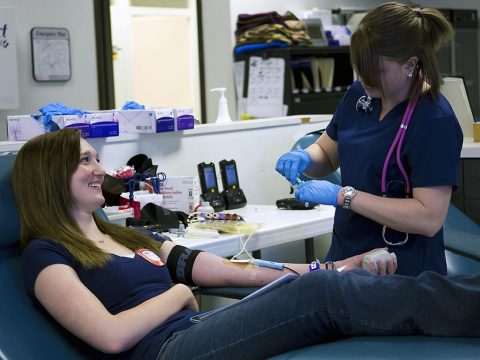 Yet donations remain critical for patients like 4-year-old Wyatt Monacelli who is in the midst of intense chemotherapy treatments for leukemia. He has received a number of transfusions since his diagnosis in June and will likely need more.
"We are fortunate to have had so many donors give the gift of life to our child so far throughout the course of his treatment, and even more so, we are lucky to have had a supply of blood available for him when he needed it," said Julianna Monacelli, Wyatt's mother.
Donors are urged to give now to ensure that families like Wyatt's don't have to worry about the availability of blood this winter. In thanks for helping meet the urgent need around the holidays, all those who come to donate blood or platelets now through December 19th, 2018, will receive a $5.00 Amazon.com Gift Card via email. (Restrictions apply; see amazon.com/gc-legal. More information and details are available at RedCrossBlood.org/Together.)
Make an appointment to donate blood or platelets by downloading the free American Red Cross Blood Donor App, visiting RedCrossBlood.org or calling 1.800.RED CROSS (1.800.733.2767).
Another way to help keep the blood supply strong is to host a Red Cross blood drive this winter. To learn more about hosting a blood drive and to sign up, visit RedCrossBlood.org/HostADrive.
Upcoming blood donation opportunities Nov. 26-Dec. 19
Fort Campbell PX
2840 Bastogne Avenue
Fort Campbell, KY 42223
12/14/2018: 10:00am-3:00pm
Petrie Memorial United Methodist Church
202 East Main Street
Elkton, KY 42220
12/14/2018: noon-6:00pm
St Stephen Catholic Church
1698 Canton Road
Cadiz, KY 42211
12/4/2018: 11:00am-5:00pm
Burns Church of Christ
2718 Church Street
Burns, TN 37029
12/19/2018: 3:00pm-7:00pm
Jackson Chapel United Methodist Church Community Center
3008 Bowker Road
Charlotte, TN 37036
12/8/2018: 9:00am-2:00pm
Walnut Street Church of Christ
201 Center Avenue
Dickson, TN 37055
12/6/2018: 10:30am-3:30pm
First Baptist Church Dickson
2501 Highway 70 E.
Dickson, TN 37055
12/17/2018: 2:00pm-7:00pm
YMCA Dickson
301 Henslee Drive
Dickson, TN 37055
12/18/2018: 3:00pm-7:00pm
White Bluff Church of Christ
4416 Highway 70
White Bluff, TN 37187
12/19/2018: 2:00pm-7:00pm
American Red Cross
1760 Madison Street
Clarksville, TN 37043
11/26/2018: 10:30am-4:30pm
12/3/2018: 10:30am-4:30pm
12/10/2018: 10:30am-4:30pm
12/17/2018: 12:30pm-4:30pm
Veteran's Plaza – William O. Beach Civic Hall
350 Pagaent Lane
Clarksville, TN 37040
11/29/2018: 9:00am-2:00pm
How to donate blood
Simply download the American Red Cross Blood Donor App, visit RedCrossBlood.org or call 1.800.RED CROSS (1.800.733.2767) to make an appointment or for more information. All blood types are needed to ensure a reliable supply for patients. A blood donor card or driver's license or two other forms of identification are required at check-in.
Individuals who are 17 years of age in most states (16 with parental consent where allowed by state law), weigh at least 110 pounds and are in generally good health may be eligible to
donate blood
. High school students and other donors 18 years of age and younger also have to meet certain height and weight requirements.
Blood and platelet donors can save time at their next donation by using RapidPass® to complete their pre-donation reading and health history questionnaire online, on the day of their donation, before arriving at the blood drive. To get started, follow the instructions at RedCrossBlood.org/RapidPass or use the Blood Donor App.
About the American Red Cross
The American Red Cross shelters, feeds and provides emotional support to victims of disasters; supplies about 40 percent of the nation's blood; teaches skills that save lives; provides international humanitarian aid; and supports military members and their families. The Red Cross is a not-for-profit organization that depends on volunteers and the generosity of the American public to perform its mission.
For more information, please visit RedCross.org or CruzRojaAmericana.org, or visit us on Twitter at @RedCross.