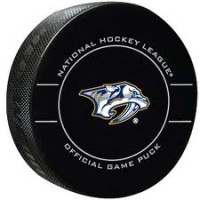 Detroit, MI – The Nashville Predators lost the first game of a six game road trip tonight to the Detroit Red Wings, 4-3 in overtime.
Detroit played a very aggressive game tonight while the Predators put on a lazy performance, leaning on their All-Star goaltender Pekka Rinne for most of the night.
The Red Wings dominated the first ten minutes of the game while Nashville had no shots on goal, but because of Rinne, they remained in the contest. Oddly enough, it was Nashville that took the early lead in tonight's contest.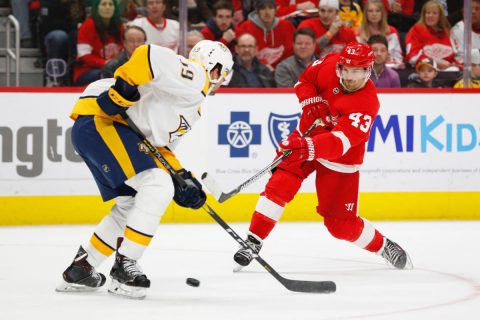 P.K Subban lit the lamp for the Predators at 17:36 of the opening frame, ripping a wrist shot past Detroit goalie, Jimmy Howard, from the top of the circle and Nashville took the 1-0 lead.
Craig Smith then gave the Predators a 2-0 lead at 3:01 of the second period after taking the puck from the bottom of the circle and beat Howard on the high side. Suddenly, Nashville had found its groove and looked as if they would take control of the contest.
Detroit had other ideas though, as Andreas Athanasiou put on a burst of blazing speed and tapped a backhand shot over the glove of Rinne and the Red Wings cut the lead to 2-1.
Thomas Vanek then brought the Red Wings even at 13:35 of the second, taking the puck off the end boards and banked a shot past Pekka Rinne and the game was tied at 2-2.
In the third period it was more lazy play on defense for the Predators as the pressure mounted on Rinne. Detroit fired 39 shots on goal tonight, and finally at 11:57 of the final period, Tyler Bertuzzi took a feed from Gustav Nyquist to tap in his first goal in 15 games and Detroit took a 3-2 lead.
With time winding down in the game, Nashville pulled Rinne from the net and the Predators had the man advantage, when Ryan Johansen tied the game to send it to overtime. "Joey" took a chip pass from Calle Jarnkrok to beat Jimmy Howard on the short side and the game was tied at 3-3.
In overtime, the Predators played a man down after a penalty was called against Nashville and Detroit had the four on three advantage. With just 26 seconds remaining before a shoot out, Dylan Larkin scored the game winner and the Red Wings get the win, 4-3.
Nashville did manage to pick up a point in tonight's game.
The Predators will fly to Montreal tonight and play the Canadiens tomorrow. Puck drops at 6pm Central time.