Austin Peay State University (APSU)

Clarksville, TN – GOV 1 has landed. Austin Peay State University (APSU) officials on Wednesday, January 9th, 2019 unveiled the first of three helicopters in its new rotor-wing fleet. The helicopters bolster the state's first and only aviation science program with a rotor-wing concentration.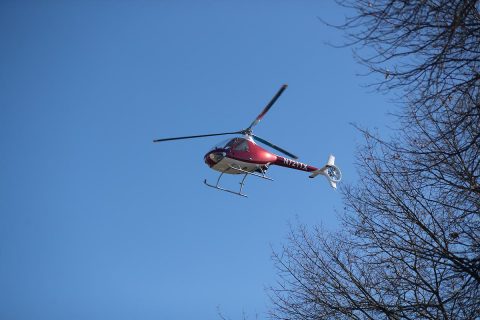 Charlie Weigandt, the program's director and chief helicopter pilot, circled the plaza beside the APSU Art + Design building before lowering the Guimbal Cabri G2 – named GOV 1 – to the lawn.
The landing was GOV 1's first on campus, touching down at 10:46am.
About 150 people – including local lawmakers and Fort Campbell officials – braved Wednesday's chilly temperatures and gusting winds to witness the inaugural campus landing.
"This is a historic event, and it's one that has been in the planning stages for a long time," APSU President Alisa White said before GOV 1 landed.
"This came as a result of faculty talking to industry. 'Where are the jobs? Where are the needs?' I don't even know how many conversations (they) had with industry leaders to find out what is needed in this area for our workforce to be at the ready," stated White.
White cited the work of Dr. Karen Meisch, interim dean of the College of STEM, Dr. Jaime Taylor, previous STEM dean, and Dr. Kristine Nakutis, executive director of the Austin Peay Center at Fort Campbell, for launching the program.
Tennessee's First Roter-Wing Program
Weigandt last week flew two Cabri G2's to Clarksville – during a three-day solo flight from Portland, Oregon, and a short flight from St. Louis, Missouri (about 1,900 miles and 21 hours of flight time) – before housing them at Clarksville Regional Airport. A Robinson R44 soon will join the University's helicopter fleet.
The helicopters will be keystones in Austin Peay's aviation science degree with a concentration in rotor wing (helicopters) program, which launched in the fall. The degree requires more than 175 hours of flight time. The first flight lab will be this spring, Weigandt said.
The program benefits Fort Campbell pilots transitioning from the military and civilians pursuing careers in flight instruction, aerial tourism, charter operations and other rotor-wing pilot careers.
Retired Brig. Gen. Scott Brower, APSU's military adviser in residence and former deputy commanding general of the 101st Airborne Division, emphasized the University's role in serving those connected to the military.
"Because of living in such a great community, with such a large military presence, Austin Peay State University is afforded an opportunity with which comes a responsibility to care for and educate over 2,400 military-affiliated students, which includes our active-duty students, National Guard and Reserve service members, veterans from all services, along with spouses and children of all of those groups," he said.
Successful Students In A Competitive Market
Rotor-wing students will learn flight skills and academics in a renovated, aviation-oriented facility at Clarksville Regional Airport, aka Outlaw Field.
"Without Outlaw Field doing this, we couldn't do this," White said. "The partnerships that have been established with this program are just indicative of the kind of partnerships we want going forward. We want to be a part of the University's and the state's goals to support the economy and to support our families and to support our community.
"Without our entire community, without everybody at the table, this could not be possible."
Unlike other flight training facilities in the region, the APSU program is staffed by full-time faculty, well experienced in rotor-wing training.
Weigandt is a 24-year U.S. Army veteran and founding member of the 160th Special Operations Aviation Regiment. After his service, Weigandt spent an additional 14 years as a contract flight instructor.
"I can speak from personal experience, having my bachelor's degree before I went into the Army gave me an edge competitively when it came time for promotion and selection for programs," Weigandt said. "That's what we will give our students; it isn't just the certificates, but also that degree to make them more competitive in the job market."
Rotor-Wing The Next Of Endless Possibilities
Students will receive a well-rounded undergraduate education in addition to the ability to obtain the rotor-wing FAA private pilot's and commercial pilot's licenses, and commercial flight instructor and commercial flight instrument instructor certificates. The combination of FAA certification and a bachelor's degree will make APSU graduates more competitive in the aviation market.
The program will provide a foundation in FAA regulations, airmanship, rotary-wing aerodynamics and methods of instruction and will provide students the opportunity to pass required FAA knowledge tests required for each certificate or rating.
At Austin Peay State University, "the possibilities remain endless," Brower said. "This rotor-wing program is the next possibility, and it's going to help not only our military-affiliated students, but all students in the community we're so happy to be a part of."
Learn More
For more about Austin Peay's aviation science program, visit www.apsu.edu/programs/undergraduate/aviation-science-rotor-wing.php
For more about the Guimbal Cabri G2, visit www.guimbal.com.
For more about the Robinson R44, visit www.robinsonheli.com.