National Weather Service (NWS)
Nashville, TN – The National Weather Service (NWS) has issued a Flood Watch that is in effect for Clarskville-Montgomery County and northern Middle Tennessee from 6:00pm this evening through Tuesday morning, February 12th.
A lengthy period of on and off moderate to occasionally heavy rainfall across northern Middle Tennessee will begin tonight and last into Tuesday.
The rainfall should finally come to an end on Tuesday.
2 to 4 inches of rainfall is expected over already saturated ground. This will cause flooding issues across the watch area. Areas across the northwestern quarter of the mid state will likely see the bulk share of the 4 inch rain totals.
Street flooding will be a big hazard for travelers. Low lying areas and poor drainage areas will be at risk for flash flooding. Also watch for flooding along small streams.
The U.S. Army Corps of Engineers Nashville District Water Management Section began overseeing water releases at its dams in the Cumberland River Basin on February 7th due to a significant rain event within the basin.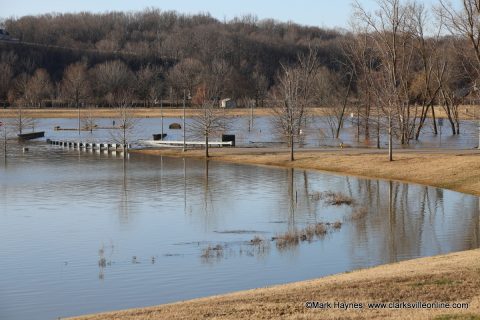 Because of flooding, the following City of Clarksville parks remain closed until further notice: a section of the Clarksville Greenway, from Pollard Road toward the water treatment plant, Liberty Park & Clarksville Marina, McGregor Park & Riverwalk, and Trice Landing Park.
The Flood Watch is now in effect for a portion of Middle Tennessee including the following areas: Cheatham County, Clay County, Davidson County, Dickson County, Fentress County, Houston County, Humphreys County, Jackson County, Macon County, Montgomery County, Overton County, Pickett County, Putnam County, Robertson County, Smith County, Stewart County, Sumner County, Trousdale County, and Wilson County.
A Flood Watch means there is a potential for flooding based on current forecasts.
You should monitor later forecasts and be alert for possible Flood Warnings. Those living in areas prone to flooding should be prepared to take action should flooding develop.