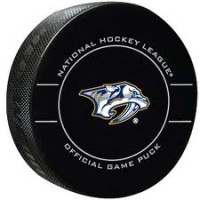 St. Louis, MO – A frustrating night for the Nashville Predators as they completed the second game of a back-to-back series, falling to the St. Louis Blues, 2-0.
The Predators had NO offense against the Blues tonight, but still had a chance to win the game behind the amazing goaltending of Juuse Saros, who was a human punching bag for St. Louis. The Blues outshot the Predators, 44-19.
In what could be a first round matchup in the Stanley Cup playoffs, the Predators failed to beat the Blues during the regular season with tonight's loss.
This was one of the toughest, hard hitting hockey games the Preds have had all season, and the teams traded punches all night long. There was no score entering the third period, and you could just feel that the team that scored first would win the game.
And that would be St. Louis.
At 12:35 of the final frame, Tyler Bozak, who should have been called for interference just moments earlier, took a pass from Vladimir Tarasenko and slid the puck between the legs of Saros and the Blues were finally on the board, 1-0. The "no" call brought the ire of Nashville head coach Peter Laviolette who was steaming at the referees for their lack of a call.
The final goal of the night was an empty netter from Alex Pietrangelo who picked off a pass in the neutral zone and scored.
Newly acquired forward Wayne Simmonds was in the line-up tonight for Nashville, but was not much of a factor in the contest.
Nashville beat the Edmonton Oilers last night, but had to go to an overtime shootout to do it. The lack of offensive production is something that's plaquing the Predators as they wind down the regular season.
The Predators continue their road trip with a visit to Winnipeg on Friday and Minnesota on Sunday.
Nashville returns home next Tuesday to welcome former Predator Kevin Fiala and his new team the Minnesota Wild. Puck drops at 7:00pm.