#7 Tennessee Vols (24-3 | 12-2 SEC) at Ole Miss (19-8 | 9-5 SEC)
Wednesday, February 27th, 2019 | 6:01pm CT
Oxford, MS | The Pavilion at Ole Miss | TV: SEC Network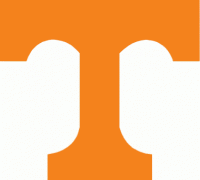 Oxford, MS – With only two weeks remaining in the regular season, No. 7 Tennessee will begin its final push for a conference title Wednesday night on the road against Ole Miss.
The game will tip at 6:00pm CT at The Pavilion at Ole Miss and will be televised on SEC Network and can also be viewed online through WatchESPN. Fans can listen live on their local Vol Network affiliate to hear Bob Kesling and Bert Bertelkamp describing the action.
With a chance to repeat as SEC Champions, the Vols (24-3, 12-2 SEC) are currently in a 3-way tie for first place in the league with Kentucky and LSU.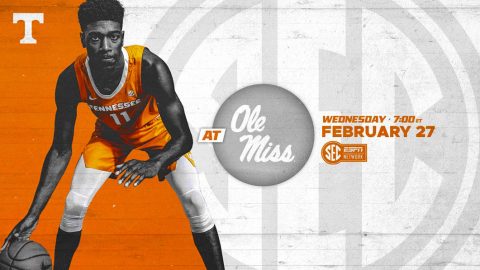 A win over the Rebels would clinch a top-4 seed and give Tennessee a double bye to begin the conference tournament, which begins in two weeks.
Ole Miss (19-8, 9-5 SEC) is in contention for one of the top four seeds in the SEC and also has its eyes set on an NCAA Tournament berth in head coach Kermit Davis's first season at the helm.
The backcourt duo of Breein Tyree (18.4 ppg, 3.1 rpg, 2.7 apg) and Terence Davis (15.6 ppg, 5.9 rpg, 3.4 apg, 1.7 spg) can shoot lights out on any given night and carry the Rebels to a win. The defensive play by Tennessee's guards will be the key to the Vols stopping UM's offense.
The Series
Tennessee leads the all-time series with Ole Miss, 73-44, dating to 1924.
The Volunteers have a 26-25 edge when the series is played in Oxford.
Tennessee is 1-1 at The Pavilion at Ole Miss.
A Win Would
Give the Vols nine wins away from home this season.
Give Tennessee it's fifth all-time 25-win season.
Make this the eighth 25-win season of Rick Barnes' career as a head coach.
Give the Vols six consecutive wins over teams from the state of Mississippi.
Storylines
Two of Tennessee's three losses this season have come in overtime. And all three losses were away from home against top-15 opponents.

For the second year in a row, the Vols are assured of finishing the season with single-digit losses.

In SEC games, Tennessee averages a league-best 10.7 turnovers per game.

The Vols averaged 20.0 assists per game through its first 24 contests. But over its last three games, Tennessee has averaged just 11.3.

Bob Cousy Award candidate Jordan Bone is four assists shy of tying for fifth place on Tennessee's all-time list for assists in a season. He has a career-best 169 through 27 games (6.3 apg).

Admiral Schofield is coming off his third 20-point performance in SEC play this season. Among active SEC players, he ranks fifth in career rebounds (651) and sixth in career scoring (1,417).
About the Ole Miss Rebels
Ole Miss (19-8, 9-5) has its eyes set on an NCAA Tournament berth in head coach Kermit Davis's first season at the helm.
Early on in conference play, the Rebels were one of the hottest teams in the country, winning 10 straight games and cracking the top-25. The streak was capped off by back-to-back wins over then-No. 10 Auburn and then-No. 14 Mississippi State. However, the squad has since split its last 12 games.
Junior guard Breein Tyree (18.4 ppg, 3.1 rpg, 2.7 apg) ranks third in the SEC in scoring for the season. He is joined by senior guard Terence Davis (15.6 ppg) to make up the second-highest scoring duo in the league, behind UT's Grant Williams and Admiral Schofield. Davis also leads the team in rebounding (5.9 rpg) and assists (3.4 apg) while ranking second in blocks (0.6 bpg) and steals (1.7 spg)
Sophomore guard Devontae Shuler (9.8 ppg, 4.1 rpg, 3.1 apg, 1.8 spg) rounds out the dangerous backcourt for the Rebels.
Tennessee Vols Last Meeting vs. Ole Miss

A career game by Admiral Schofield fueled No. 19 Tennessee to a win on the road against Ole Miss, 73-65, on February 24th, 2018, at The Pavilion at Ole Miss.

Schofield set a new career-high for scoring with 25 points on 9-of-14 shooting to go along with seven boards and three assists in 35 minutes of action. Jordan Bowden recorded15 points, four rebounds and a pair of steals for the Vols.

The Rebels fought back from a 15-point halftime deficit by opening the second period on a 9-0 run to make it a 41-35 game and forcing UT to call a timeout at the 17-minute mark. Tennessee wouldn't make its first second-half basket until a layup by Bowden with 14:24 on the clock.

After Ole Miss cut the game to seven, the Vols went on a 19-7 run to make it a 60-44 game with less than eight minutes remaining. During the stretch, Schofield scored nine points, while Lamonté Turner added six points on a pair of threes.

Tennessee extended its lead to 21 with a 14-2 run during the middle of the second half, but the Rebels would fight back to make it a 10-point game with only with a minute left. A pair of free throws by Bowden with 52 second left halted any chance of a comeback.

Turner, who was 4-for-4 during the final two minutes of play from the charity stripe, finished with 13 points, 10 of which came in the second half. Jordan Bone tied his then-career-high for assists with eight while chipping in six points and four rebounds.

Breein Tyree led the Rebels with 17 points, while Bruce Stevens added 14 points seven rebounds in the game.

Tennessee dished out 20 assists on 25 made field goals in the win.
Memorable Tennessee Vols Performances Against Ole Miss
Brandon Wharton scored 20 points, Rashard Lee added 17 and 10 rebounds, Isiah Victor poured in 16 points and C.J. Black totaled 15 and 13 rebounds as UT upset the 11th-ranked Rebels 77-67 in Knoxville on January 17th, 1998.
Gene Tormohlen grabbed 31 rebounds at Ole Miss on February 11th, 1957, to lift UT to a 98-88 win in Oxford. The 31 boards still stand as the second-best single-game effort in school history.
Carlus Groves went 11-for-12 (.917) from the floor, the fourth-best single-game average in UT annals, against the Rebels to lift Tennessee to a 98-86 win in Knoxville on February 19th, 1992.
Jeronne Maymon grabbed an incredible 10 offensive rebounds as part of an 11-point, 17-rebound effort against Ole Miss in the 2012 SEC Tournament in Nashville. Despite 21 points from Trae Golden and 15 from Skylar McBee, the Vols fell in overtime, 77-72.
Mississippi Lettermen Uncommon
Incredibly, Tennessee has had just one all-time letterman from the state of Mississippi. Sardis, Mississippi, native Torrey Harris played for the Vols from 1995-99.
Tennessee Vols Make For A Hot Ticket
Tennessee's eight true road games this season have drawn an average of 15,026 fans, which comes out to an average capacity of 95.4 percent. Games at Memphis, Florida, Vanderbilt, South Carolina, Kentucky and LSU were at or above capacity.
On Pace
Tennessee's 1.68 assist/turnover ratio would stand as a single-season program record.
The Vols' 83.6 points per game would rank fourth all-time in program history.
UT's .765 free-throw percentage would rank second all-time in program history.
Jordan Bone's 169 assists so far this season already rank sixth on Tennessee's all-time single-season list.
Grant Williams could challenge Tennessee's single-season record for free throws made by a junior. Williams has 165, and Allan Houston made 189 as a junior in 1991-92.
Coming Up Next For Tennessee Vols
The Tennessee Vols returns home after Wednesday's showdown, taking on the fourth-ranked Kentucky Wildcats in front of a sold-out Thompson-Boling Arena on Saturday. The top-10 clash will tip at 1:00pm CT and will be televised on CBS.
Sections
Sports
Topics
Admiral Schofield, Allan Houston, Auburn, Bert Bertelkamp, Bob Kesling, Breein Tyree, Florida, Grant Williams, Jordan Bone, Jordan Bowden, Kentucky, Kermit Davis, LSU, Memphis, Mississippi State, NCAA tournament, Ole Miss, Oxford MS, Rebels, Rick Barnes, SEC, SEC Network, South Carolina, Southeastern Conference, Tennessee, Terence Davis, The Pavilion at Ole Miss, Thompson-Boling Arena, UT, UT Basketball, UT Men's Basketball, Vanderbilt, Vol Network, Vols, Volunteers, Wildcats