APSU Sports Information
Clarksville, TN – The Austin Peay State University (APSU) beach volleyball team edged out victories on the final day of the Governors Challenge, 3-2, in both matches against Missouri Baptist and Central Arkansas, Saturday.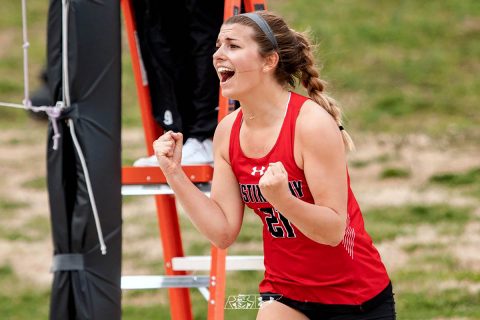 Freshman Lucy Randall and sophomore Chloe Stitt took care of business early in the No. 4 pairing against Missouri Baptist's Aubrey Wilson and Morgan Berry, 21-11, 21-19, to give the Governors their first point of the day.
The No. 2 pairing for the Govs of Jenna Panning and Brooke Moore, with the same mindset, took the first set, 21-12, but had to work hard for the second set against the Spartans' Sarah Bolton and Maggie Sorensen, but prevailed, 21-18, for the straight-sets victory.
To secure the win for the Govs, Cori Theiss and Haley Turner had to truly battle against Missouri Baptist's Ana Oliveira and Rachel Leubbers. The Govs were down early in the second set and rallied from down six to win the second set, 21-19, and secure the Govs' victory.
The Govs faced Central Arkansas in the second match of the day, and the No.5 pairing of Caroline Waite and MiMi Arrington put on a strong performance against the Bears' Kayla Cook and Hailey Webber, 21-13, 21-11.
Central Arkansas did not back down from the challenge and gave an abundance of effort against the Governors. On the other hand, the Govs weathered the storm and countered off the Bears' attack. The No. 3 pairing of Turner and Theiss bounced back from a first-set loss to Central Arkansas' Jessica Martinez and Kellen Dunn to win in a three-set finish, 10-21, 21-17, 15-12.
The No. 2 pairing of Moore and Panning was not done getting points for the Govs as they finished in extra volleys in the second set, 22-20, to give the Governors their second win of the day and improve to 4-5 for the season.
Head coach Taylor Mott was pleased to come away with a pair of victories on the day, despite a slow start in the first match.
"I thought we played more conservative than we should have, but we have to give it to our girls for getting the job done in the end," Mott said.
The APSU Governors ended the Governors Challenge with a 3-0 sweep and move forward to their competition Friday at the FSU Invitational.
Box Score
Austin Peay 3, Missouri Baptist 2
Court 1: Kamden Maas/Mallory Moran (MBU) def. Ginny Gerig/Ciera Koons (APSU) 21-9, 21-17
Court 2: Brooke Moore/Jenna Panning (APSU) def. Sarah Bolton/Maggie Sorensen (MBU) 21-12, 21-18
Court 3: Cori Theiss/Haley Turner (APSU) def. Ana Oliveira/Rachel Luebbers (MBU) 21-15, 21-19
Court 4: Chloe Stitt/Lucy Randall (APSU) def. Aubrey Wilson/Morgan Berry (MBU) 21-11, 21-19
Court 5: Sarah Wilson/Sophia Cristiani (MBU) def. Caroline Waite/Nina Korfhage (APSU) 21-14, 20-22, 15-11
Austin Peay 3, Central Arkansas 2
Court 1: Haley Tippett/Colene Hamilton (UCA) def. Ginny Gerig/ Ciera Koons (AP); 21-14, 21-10
Court 2: Brooke Moore/Jenna Panning (AP) def. Mackenzie Dear/Aly Brinkley (UCA); 21-15, 22-20
Court 3: Haley Turner/Cori Theiss (AP) vs. Jessica Martinez/Kellen Dunn (UCA): 10-21, 21-17, 15-12
Court 4: Kelsey Sager/Faith Hasness (UCA) def. Lucy Randall/ Chloe Stitt (AP); 18-21, 21-19, 17-15
Court 5: Caroline Waite/MiMi Arrington (AP) def. Kayla Cook/Hailey Weber (UCA); 21-13, 21-11