Clarksville, TN – The Austin Peay State University (APSU) baseball teams hosts Atlantic Sun Conference member Jacksonville in a three-game nonconference tilt this weekend, Friday-Sunday, on Joe Maynard Field at Raymond C. Hand Park.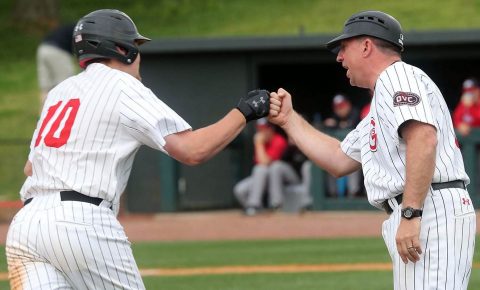 The Governors enter their off week from Ohio Valley Conference play tied atop the league standings.
Austin Peay swept league member SIU Edwardsville last weekend to move into the tie for first and have won their last three league series, posting a 7-2 record.
Jacksonville steps out of ASUN play this weekend as well. The Dolphins sit alone in fifth place entering their off week. Jacksonville lost a league set at league-leading Florida Gulf Coast two weekends ago before winning a series against ASUN second-place Liberty last weekend at home.
Governors fans have a full slate of promotions to look forward to this weekend. Friday night's game is Little League Night and Fuse Fireworks Friday. The Governors will host Military Appreciation Day, Saturday. Austin Peay will recognize its 12 seniors prior to the start of Sunday's contest.
APSU Baseball May Promotions

Friday, May 3rd vs. Jacksonville
Fuse Fireworks Friday, featuring a postgame fireworks show presented by Fuse Fireworks of Clarksville. Little League Night, all Clarksville-area little league players wearing their jersey receive free admission and the first 100 receive free pizza courtesy Dominos.
Saturday, May 4th vs. Jacksonville
Military Appreciation Day presented by Echo Power
Sunday, May 5th vs. Jacksonville
Senior Day as the Governors baseball team recognizes its 12 seniors on the 2019 roster prior to the contest.
Friday, May 17th vs. Jacksonville State
Pregame Ribbon Cutting and dedication of Joe Maynard Field (details above). Fuse Fireworks Friday, featuring a postgame fireworks show presented by Fuse Fireworks of Clarksville.
TOEING THE RUBBER
Lefty Josh Rye will take the bump for Friday night's opener. He is 2-1 with a 1.21 ERA in his four home OVC starts.
Rye is ranked third among pitchers in OVC-only ERA (2.83) and sixth in opponent's batting average (.232).
Left-hander Jacques Pucheu will remain in his Saturday afternoon spot. He owns a 4-0 record and 0.89 ERA in his home OVC outings.
Pucheu is ranked second in league-only ERA (2.68), opponent's batting average (.206) and strikeouts (63).
The Govs have not announced a starter for Sunday's finale.
The Governors pitching staff owns a league-leading 9.67 strikeout per nine rate that ranks 25th nationally and would shatter the program record of 8.48 set in 1967.
In league play, Austin Peay's pitching is ranked second in team ERA (4.20).
First Hacks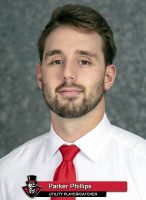 Fifteen different Governors have started a game in the season's first 42 games. Only two players have started every game in 2019: center fielder Garrett Spain and utility man Parker Phillips.
Freshman designated hitter Matt Joslin continues to be the right man in the right spot in 2019. He is batting .727 with 18 RBI in 12 bases-loaded opportunities this season, including a walk-off grand slam against Southern Illinois, April 16th.
Senior catcher David Martinez' .379 batting average is ninth among NCAA catchers (51st overall) and second among all OVC hitters. He is batting a team-best .362 in OVC play this season.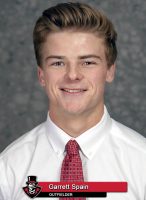 Center fielder Garrett Spain has reached base in all 42 games – the third longest streak in APSU history. He is second among OVC freshmen in both home runs (5) and RBI (38) and ranked third in batting average (.335). Spain also is ranked 24th among Division I freshmen in batting average.
Junior right fielder Parker Phillips has five home runs and 14 RBI in his last six games. He is ranked 10th nationally with 16 home runs and 50th among Division I hitters with 47 RBI.
In April, senior left fielder Aaron Campbell led the Govs in batting average (.405) and on-base percentage (.500), with six of his 17 hits during the month going for doubles.
Junior first baseman Andrew Flaherty batted .355 with two home runs and nine RBI in nine April starts. He had three-hit outings against Evansville (April 9th) and UT Martin (April 21st) during the month.
Freshman third baseman Gino Avros has a hit in eight of his last 10 games, batting .357 (16-41) with 13 runs scored.
Redshirt senior shortstop Garrett Kueber has a hit in six of his last seven games, batting .393 (11-28) with two home runs and six RBI.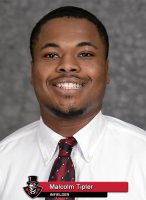 Junior utility man Malcolm Tipler has driven his batting average up 36 points in his last nine games with a 12-for-33 stretch (.364 BA) that includes a 4-for-4 outing in Game 2 of the SIUE series.
Sophomore infielder Bobby Head has a hit in each of his last three starts, batting .571 (4-7) with a home run and two RBI.
Senior catcher Alex Sala batted .333 (6-18) with two doubles and four RBI in six April starts, including a 2-for-4, two RBI outing against Evansville.
Sophomore first baseman John McDonald made two starts during the SIUE seres, finishing with three hits, a home run and two RBI.
APSU Govs vs. Jackson Dolphins
Austin Peay and Jacksonville will meet for the first time since 2001 when APSU traveled to Jacksonville for the four-game Kennel Club Classic, which it won with a sweep that included a 9-6 win against host Jacksonville.
That win is the Governors only win in the all-time series, which the Dolphins lead 4-1 and dates back to 1972.