Clarksville, TN – On Monday, July 1st, 2019, the Clarksville Police Department promoted eleven officers in a ceremony held at the Wilma Rudolph Event Center at Liberty Park. This was one of the largest promotion ceremonies the police department has ever had.
The room was filled with dignitaries, friends, family, and well-wishers as five officers were promoted to Sergeant, three to Lieutenant, two to Captain, and one to Deputy Chief.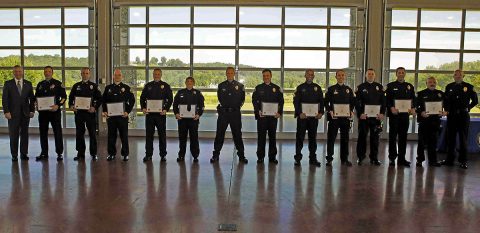 The officers come from diverse backgrounds and levels of responsibility within the department such as detective, patrol, special operations, homeland security, K-9, and traffic.
The officers promoted to Sergeant were: Field Training Officer Josh Jobe, Detective Joe Shrum, Field Training Officer Justin Doolittle, K-9 Officer Seth Paugh, and Detective Cory Coleman. The Sergeants promoted to Lieutenant were: Patrol Sergeant Gabriel Johnson, Traffic Sergeant Melissa Spielhagen, and Patrol Sergeant Gregory Rosencrants.
The Lieutenants promoted to Captain were: Patrol Lieutenant Chad Koyama and Special Services Lieutenant Daniel Lane. Special Operations Unit Commander, Captain Richard Stalder was promoted to Administrative Deputy Chief.
The promotions were effective July 1st.
The Clarksville Police Department's promotion process is highly competitive and those selected for promotion reflect favorably on the individuals and the Police Department.
Photo Gallery