Hendersonville, TN – Leadership Middle Tennessee, Inc. (LMT), the regional leadership organization that encompasses a 10-county collective of community leaders in Middle Tennessee, announces the 40 members of the incoming Class of 2020. The class is selected by a vetting process within the leadership of the LMT Board of Directors.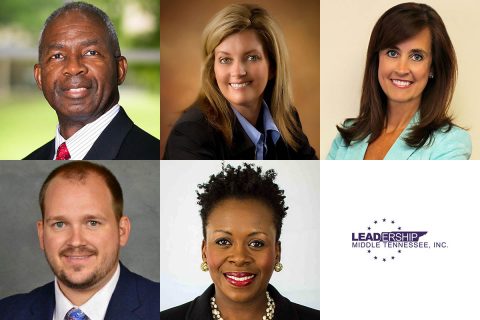 "This 20th class is made up of a diverse group of members from different industries and communities across Middle Tennessee," LMT President Lee Rucks said.
"I'm excited about celebrating this milestone as we come together to improve our region from the community level," stated Rucks.
Class of 2020 members listed by county:
Cheatham County:
Tim Adkins – Communications Director, Grant Writer – Cheatham Country School District
Shelly Carney – HR Director – Cheatham County Government
Davidson County:
Julia Baker – Managing Partner – Page | Duke Landscape
Margaret Brooke – Assistant General Counsel – CoreCivic
Gerald Brown – CEO – Dismas House of Nashville
Carrie Brumfield – Executive Director – Senior Ride of Nashville
Charles Miller – Owner & Principal – Tuck-Hinton Architecture & Design
Emily Mitchell – Region Economic Information Director – Federal Reserve Bank of Atlanta
Buist Richardson – Principal – Avison Young
Emily Schneller – VP, Principal Broker – Katz & Associates
Dickson County:
Corey Albert – President – Dickson County Chamber
Renee Boehm – Executive Director – Dickson County Help Center
Marcus Pearson – Senior Principal – Stantec Consulting Services, Inc.
Maury County:
Ryan Jackson – Lead Principal – Mount Pleasant High School, Maury County Public Schools
Missy Meador – Owner – Human Capital Management Group, LLC
Rebecca Melton – Executive Director – Spring Hill Chamber of Commerce
Rita Thompson – Marketing Director – Maury Regional Health
Montgomery County:
Ronald Bailey – VP, External Affairs – Austin Peay State University
Andrea Goble – Partner & Attorney – Goble & Yow, PLLC
Virginia Holleman – VP, Marketing – Fortera Federal Credit Union
Grayson Smith – Survey Department Manager – DBS & Associates Engineering, Inc.
Kimberly Wiggins – Trustee – Montgomery County Trustee's Office
Robertson County:
Chris Causey – Director of Schools – Robertson County Schools
Ryan Martin – Assistant City Manager – City of Springfield
Sherri Ferguson – President & CEO – Portland Chamber of Commerce
Rutherford County:
Kristopher Fisher – Executive Officer – Professional Insurance Agents of TN
Brigitte Tubbs-Jones – Attorney & Human Resource Partner – Metro Nashville Public Schools
Sumner County:
Nicholas Bishop – Vice President for Economic and Community Development – Volunteer State Community College
Alana Hibbler – Public Works Projects Coordinator – City of Hendersonville
Andrew Jennings – AVP – The Farmers Bank
Van Oldham – Managing Partner – GreenLID Design
Williamson County
Eryn McHugh – Manager, Talent Acquisition & Employer Branding – MAPCO
Jennifer Pagliara – Executive Vice President & Financial Adsivor – CapWealth Strategies
John Hayes – Practice Builder/Tennessee Office Lead – HNTB Corporation
Pam Lewis – President – PLA Media
Vickie Manning – Senior Vice President – Pinnacle Financial Partners
DarKenya Waller – Executive Director – Legal Aid Society of Middle TN and the Cumberlands
Wilson County:
Maggie Lea – Owner & Principal – Home Instead Senior Care
Courtney Vick – Director of Career Services & Internships, Faculty Member- Cumberland University
Michael Wrye – Executive Vice President – Lose Design
About Leadership Middle Tennessee
Leadership Middle Tennessee (LMT) was founded in 1999, as an initiative of Partnership 2000, to contribute to future planned and sustainable economic and community growth and development in the ten-county area through the participation of community, non-profit, government and business leaders.
The program highlights historic and contemporary perspectives on relevant regional themes and features presentations by leading experts and key community leaders. Sessions employ a mix of interactive presentations, facilitated dialogue, behind-the-scenes visits and more. Session topics include Education & Workforce Development, Fort Campbell & Military Impact in Middle Tennessee, Agriculture, Globalization, Health & Healthcare, Environmental & Historical Preservation, Government, Public Policy & the Music City Brand, Transportation, Tourism & Sports, and Recreation & Natural Preservation.
Leadership Middle Tennessee is a 501(c)3 non-profit organization overseen by a regional board comprised of the Leadership Middle Tennessee alums, business, and community leaders. The LMT offices originated on the campus of Middle Tennessee State University in 2000. In 2016, LMT offices moved to Cumberland University. In 2018, the LMT offices relocated to Bone McAllester Norton, PLLC in Hendersonville. The current address is 100 Bluegrass Commons Boulevard, Suite 2370, Hendersonville, TN 37075.
For more information on LMT, please visit www.leadmt.org.