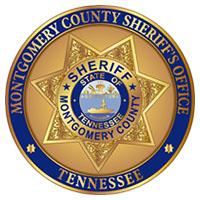 Clarksville, TN – The Montgomery County Sheriff's Office (MCSO) has sworn in their newest deputy.
Montgomery County Sheriff John Fuson administered the Oath of Office to K-9 Deputy Roscoe Wednesday afternoon, August 14th, 2019. Afterwards he signed the Oath with his paw.
"We are proud and excited to bring Roscoe into our MCSO family. Given the current demand on our K9 Unit, I have no doubt he will be a great asset to our agency and community," said Sheriff Fuson.
Roscoe is a 10-month-old Bloodhound who weighs 80 pounds and has a nose for crime. He was a gift to the Sheriff's Office from Tim and Katrina Goodale.
The students and staff at The Youth Academy help pick his name.
"He has already shown he is a hard worker," said his handler Sergeant Eric Trout. "We know he will fit in well here and be well loved."
Video