Brentwood, TN – Austin Peay State University (APSU) junior outside hitter Brooke Moore and senior libero Ginny Busse (Gerig) were each named to the Ohio Valley Conference's Preseason Volleyball Team, in a vote of the league's coaches and sports information directors announced Thursday, August 15th, 2019.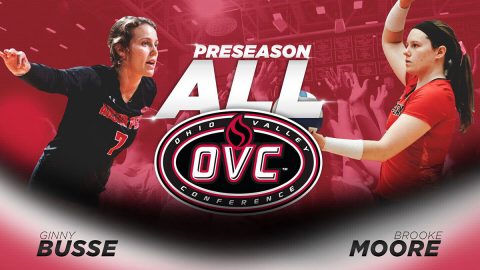 Austin Peay State University, the back-to-back defending regular-season champion, was picked to finish second in the league's Predicted Team Order of Finish, also determined in a vote of the league's coaches and sports information directors.
Murray State, the reigning tournament champion, was picked to finish first. Behind the Racers and Govs, Morehead State was picked third and Jacksonville State fourth.
"I appreciate the vote of confidence from the league picking us to finish second," said APSU head coach Taylor Mott. "However, the reality is that ranking was based on what we accomplished in the past. We have a lot of work to do in the next two weeks, and really the next six weeks, to prepare for what looks like a tough OVC schedule. It should be an exciting league race from start to finish."
Busse, of Towanda, Illinois, returns after leading the Governors defense with 4.35 digs per set last season. Her 470 total digs were seventh-most in the league and she finished her junior season with 1,436 career digs – ninth-most in program history. Busse also finished second among all OVC players with 39 service aces and surpassed the 100 career ace mark last season.
Moore, of Louisville, Kentucky, is the Govs leading returning hitter after posting 370 kills last season, averaging 3.08 kills per set. She also was second on the team in digs, behind Busse, with 358 total digs and 2.98 digs per set. Moore has 659 kills in her first two seasons at Austin Peay and will look to become the 15th APSU hitter to 1,000 career kills.
Busse and Moore lead a group of 10 returnees and five newcomers on the Govs' 2019 volleyball roster. Senior outside hitter Jenna Panning, another of the Govs' key returnees, will look to build on her 2018 campaign, which saw her post a career-high 247 kills.
For the first time in four seasons, Austin Peay will enter the season with a new face at setter following three-time OVC Setter of the Year Kristen Stucker's graduation. The Govs will turn to returning setters senior MiMi Arrington and junior Caroline Waite as well as freshman setter Kelsey Meade to run the offense in 2019.
"We've got a group of new faces that will be put in key spots right from the start," said Mott.
"While Ginny, Brooke, and Jenna will certainly be a big part of what we do, the fact is there are six positions on the court, and we'll need production all around to reach our goals this season. Our newcomers came in ready for the preseason work and have pushed our returners hard, which will be a good thing by the time we open the season," Mott stated.
The Governors open their 2019 schedule in two weeks when they travel to North Carolina State for the Wolfpack Invitational, August 30th-31st. After opening against the host Wolfpack, APSU will face Maryland and Kansas State in the opening weekend. The trip to Raliegh provides the first three matches in a season-opening 18-match road trip.
The Govs open their home slate with an October 4th contest against Southeast Missouri.