Clarksville, TN – Earlier this summer, Amanda Crumb opened an innocent-looking email promoting a free trip to China. The information seemed legitimate, but the promise of a hassle-free, all expenses paid trip caused her to hesitate. Was this one of those email phishing scams?
"I said to myself, 'I need more information,'" she said.
A month later, Crumb – a self-described country girl – found herself in Beijing, teaching kindergarteners at a school partially named after Austin Peay State University (APSU). Instead of a phishing scam, the APSU education major had stumbled across one of the most transformative experiences of her college career.
"I'm still in disbelief over it, I'm still in shock," she said. "Somebody actually came to me to go to China, and there were no hoops to jump through."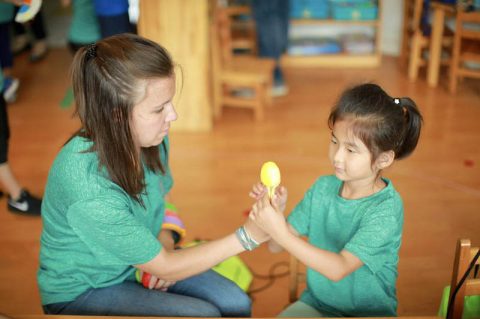 The email that landed in Crumb's inbox originated from APSU's Eriksson College of Education, which has spent the last two years developing collaborative relationships with educational institutions in China.
"We now have a partnership with a kindergarten organization in China that operates kindergartens across the country," Dr. Benita Bruster, chair of the college's Department of Teaching and Learning, said. "This organization wants the College of Education to continue this relationship and send our faculty and students there."
In February, a delegation of 15 teachers and administrators from China's Oriental Dragon International Preschool and Kindergarten visited Austin Peay State University for a special, week-long training symposium. That visit was such a success that the school's owner changed its name to Austin International Preschool and Kindergarten.
"This summer, we had one faculty member (Dr. Cheryl Lambert, assistant professor of education) and two students (Crumb and Gavin Brant) teach in the kindergarten's summer school," Bruster said. "It was a completely free trip. The organization paid airfare, room and board and excursions. They treated us like royalty."
Teaching in China
Crumb, having never left the U.S. in her life, arrived in Beijing on a Sunday afternoon. She'd been on a plane for 13 hours, didn't know the language and discovered she had to teach early the next morning. Surprisingly, she was in a good mood and felt prepared and eager to begin.
"It really wasn't too bad going off little sleep," she said. "Since I had to go directly into teaching, I didn't have a choice. And the culture over there is so very warm, very inviting."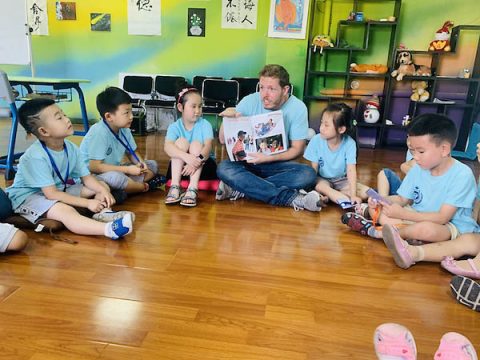 The purpose of the summer school was to teach young Chinese children different aspects of American culture. Austin Peay State University's early childhood education faculty, along with some of the college's Chinese graduate students, developed a curriculum for the Austin Peay State University team to use.
"Dr. Lambert fine-tuned it and did daily, detailed lesson plans, and our students also wrote lesson plans and prepared lessons for each day," Bruster said.
As part of her teaching, Crumb helped her students make American flags, told them the significance of bald eagles and introduced them to one of the United States' great pastimes – the Slip 'n Slide. One afternoon, she taught the children western dining etiquette by having them use forks and knifes. As each day passed, her feelings grew stronger for her precocious students.
"I was in tears at the summer school's graduation," she said. "I have trouble finding words to describe the experience. The children over there are just brilliant. They're 4, 5, 6 years old. They've been in mandatory school since they were 2. They're just really, really curious."
Crumb spent two weeks in Beijing, while Dr. Lambert taught in Baotou, Inner Mongolia, and Brant spent an entire month in China, teaching at both locations. When the APSU teachers had downtime, their hosts took them to such sites as the Great Wall of China, the Forbidden City and Tiananmen Square.
The APSU team is now back on campus, making their way through the fall semester.
Bruster said the college is maintaining its relationship with Austin International Preschool and Kindergarten, with plans to continue this work next summer.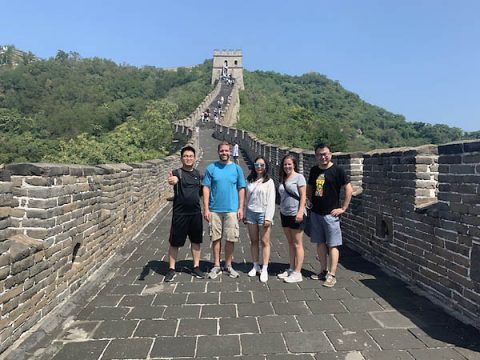 "We're working on a Memorandum of Understanding with the school to solidify our relationship," she said. "They are making plans to come back this winter. They want to do a winter camp here at Austin Peay State University, with parents, children and teachers all from these Chinese kindergartens."
For information on APSU's Eriksson College of Education, visit, www.apsu.edu/education.