Bozeman, MT – The Austin Peay State University (APSU) football team's magical postseason run ended in the NCAA Division I Football Championship's national quarterfinals, with No. 5 national seed downing the Govs, 24-10, Friday night at Bobcat Stadium.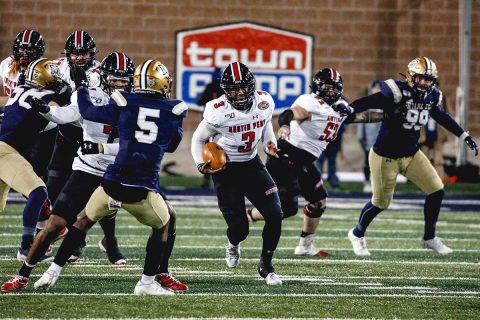 Austin Peay State University (11-4) could not find a consistent offensive rhythm in the contest, but when they did, they showed what helped them reach this historic point.
JaVaughn Craig's 15-yard scamper and later a 16-yard pass to DeAngelo Wilson started the Govs first scoring drive.
The drive stalled deep in Montana State territory, but Logan Birchfield got APSU on the board with a 38-yard field goal, but the Govs trailed 10-3 at halftime.
Montana State (11-3) opened the second half with back-to-back touchdown drives. The Bobcats forced a turnover on the half's opening drive and converted a key 4th-and-1 opportunity to set up their offense in the red zone. Three plays later, they capitalized on the takeaway when Tucker Rovig found Kevin Kassis for a five-yard score.
The Bobcats forced a three-and-out on the ensuing APSU Govs possession. They then marched 63 yards in 11 plays, with running back Isaiah Ifanse rushing on seven of the 11 plays then connecting on a jump pass to Jason Scrempos for MSU's third touchdown and a 24-3 lead.
Austin Peay State University's defense would stop the Bobcats on their next drive, forcing a missed field goal. The ensuing Govs possession lasted one play as Craig found Wilson again for a 76-yard touchdown, closing the gap to 24-10 with 13:11 left in the game.
However, the Govs offense could not break through on its final three drives despite the defense forcing Montana State into a second missed field goal and a turnover on downs in its final three possessions.
Wilson surpassed the 2,000-career yard receiving mark with six catches for 118 yards – his eighth 100-yard receiving outing in 2019. Craig completed 18-of-37 passes for 173 yards but was sacked four times.
Ifanse finished with 196 rushing yards on 26 carries, rushing for a touchdown and passing for another.