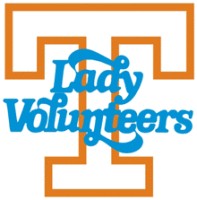 Knoxville, TN – The No. 23/23 Tennessee Lady Vols basketball team got back in the win column on Sunday, defeating LSU, 63-58, in a key SEC match-up in front of a season-best crowd of 10,230 at Thompson-Boling Arena.
The victory enabled the Lady Vols to post a 2-1 record during a week in which they played three games, including both SEC opponents entering games having had an off-date prior to their meeting with the Lady Vols.
Junior forward Rennia Davis led Tennessee (16-4, 6-1 SEC), going a perfect 10 of 10 from the free-throw line en route to a game-high 30 points and eight rebounds.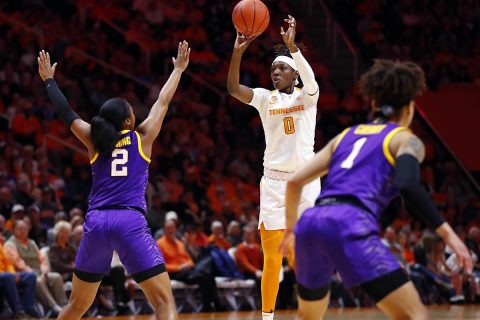 LSU (14-5, 4-3 SEC) was led by redshirt senior Ayana Mitchell, who logged a double-double with 24 points and 12 rebounds. Khayla Pointer was also in double figures for the Tigers with 12.
Despite being out-rebounded 45-32, UT held LSU to a 33.3 shooting percentage and forced 17 turnovers. Tennessee shot at a 42.6 percent rate and scored 32 points inside the paint.

Freshman Tamari Key got things going for the Lady Vols in the first quarter, scoring a jumper and tying the game at 2-2. From there, LSU went on a 9-2 run with Davis stopping the run by draining a three-pointer, cutting UT's deficit to 11-7. Mitchell was responsible for all 11 of the Tigers' points.

The Lady Vols responded with their own 10-0 run in the last few minutes of the first quarter, claiming the lead and moving on top, 14-13, at the end of the stanza.

In the second quarter, LSU opened up with a 7-0 run, while UT was held scoreless for over three minutes. Davis ended the drought by scoring a lay-in and cutting the Tigers' lead to 22-18 with 4:05 left in the half.

Davis couldn't be stopped from there, as she scored 12 out of UT's 16 points in the second quarter, creating a 6-0 run and helping her team regain the lead with 59 seconds left in the first half. Freshman Jordan Horston closed out the quarter with a last-second jumper to give UT a 30-26 lead going into the locker room.

In the first half, LSU out-rebounded the Lady Vols, 23-18. The Big Orange shot at a 37.5 percent pace while holding the Tigers to 30 percent. UT also forced nine turnovers and scored 11 points off of them.

Opening up the third quarter, Key scored on the first possession by draining a jumper from the free-throw line. Davis followed it up with another bucket, giving the Lady Vols a 35-28 advantage.

Tennessee went on to build its largest lead of the game with 3:50 remaining in the third quarter after Davis scored a lay-up on a fast break, putting UT up 41-36.

Sophomore Rae Burrell would score next on a fast break, followed by a jumper from junior Jaiden McCoy to give the Lady Vols a 47-39 lead at the end of the third quarter.

Davis led the team with nine points in the stanza and accounted for over half of the rebounds during the time frame, recording four. The All-America candidate tallied 21 of Tennessee's 33 points during the second and third periods.

During the final quarter, LSU came within fourth points, but the Big Orange responded quickly with back-to-back jumpers from sophomore Jazmine Massengill and redshirt senior Lou Brown.

The Tigers didn't back down from there, as they closed to within three points with only 1:42 remaining. Massengill, however, answered with another jumper on UT's next possession to help her team wrestle back a five-point lead.

After a back-and-forth battle down the stretch, a made free throw from Horston and a block from redshirt senior Lou Brown closed out the five-point win for Tennessee.
Rennia In The Record Books
Junior Rennia Davis turned in 30 points against LSU, making it the 11th time she's scored at least 20 points and the third time she's hit 30. She's now tied for 11th all-time in career 20+ point performances by Lady Vols. Additionally, she went a perfect 10 of 10 from the line to tie for fourth all-time in free-throw percentage for a single game.

Shot Swatting
Freshman Tamari Key blocked four shots against the Tigers, putting her average in SEC play at 4.7 bpg. Key currently leads the conference, while South Carolina's Aliyah Boston is second in conference play, averaging 2.3 bpg.

Defense Wins Games
Coming into the contest, LSU was averaging 61.1 ppg. off a .448 shooting percentage from the floor. Tennessee held them below their averages in both points and shooting percentage at 58 points on .333 shooting.

Horston Dropping Dimes
Freshman Jordan Horston dished out a career-high-tying nine assists against the Tigers, moving her average to 5.2 apg. If the season ended today that average would be first all-time among Lady Vol freshmen.
Next Up For UT Lady Vols Basketball
The Tennessee Lady Vols basketball team will head west on I-40 for a 9:00pm ET (8:00pm CT) match-up at Vanderbilt on Thursday. The game will be broadcast on the SEC Network and Lady Vol Radio Network stations.