Clarksville, TN – In one month, the Austin Peay State University (APSU) beach volleyball team begins its fourth season as it prepares for the inaugural Ohio Valley Conference beach volleyball championship in a 26-match schedule released, Thursday.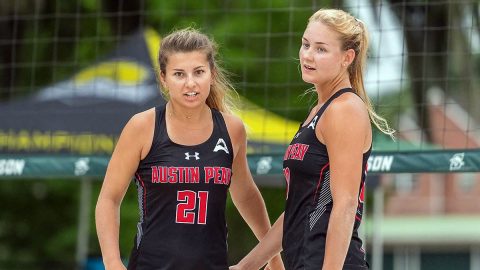 The highlight of the 2020 season is the opportunity to win the first OVC championships in beach volleyball after the league added the sport to its championship roster last spring.
Each league team will play two matches against the other league members in regular-season competition, though they may not compete in a traditional home-and-home series.
After opening the season with back-to-back road tournaments at Central Arkansas March 6th-7th, and Florida Atlantic, March 13th-14th, Austin Peay State University hosts its tournament, March 21st-22nd. Austin Peay State University will face Ottawa (KS), Lincoln Memorial, Eastern Kentucky and Jacksonville State in the two-day competition. The matches against EKU and JSU the first events counting toward the OVC regular-season title.
The APSU Govs then make the first of two trips to UT Martin, March 27th-28th, where they will pick up league matches against Chattanooga, UT Martin, and Morehead State while also facing Eastern Kentucky.
A brief break from tournament play starts April with Austin Peay State University hosting North Alabama, April 1st, and UT Martin, April 8th, in dual matches. The Govs return to the road for a tournament at Principia College, April 10th-11th, to complete their nonconference slate.
Four OVC matches await the Governors the following weekend at the OVC Beach Preview tournament hosted by Jacksonville State, April 17th-18th. Austin Peay State University will face Morehead State, Chattanooga, Eastern Kentucky and Jacksonville State in the final weekend of league play.
UT Martin hosts the first-ever OVC Beach Volleyball Championship, April 23rd-25th, with each of the league's teams qualifying for the double-elimination event.