Topic: Battle of Gettysburg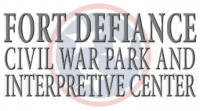 Clarksville, TN – On Friday, May 15th, 2015, the 14th Tennessee Infantry celebrated their 150th anniversary Homecoming at Fort Defiance Civil War Park. Reenactors of the Confederate 14th Tennessee Volunteer Infantry, Company B setup camp and held demonstrations from 10:00am until 5:00pm.
Some of the demonstrations held included an infantry demonstration, weapons talk, U.S. Sanitary Commission information, a talk on Confederate flags as well as an artillery demonstration and discussion.
«Read the rest of this article»
Our 125th meeting.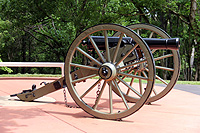 Clarksville, TN – The next meeting of the Clarksville (TN) Civil War Roundtable will be on Wednesday, August 20th, 2014 at the Bone & Joint Center, 980 Professional Park Drive, right across the street from Gateway Medical Center. This is just off Dunlop Lane and Holiday Drive and only a few minutes east of Governor's Square mall.
The meeting begins at 7:00pm and is always open to the public. Members please bring a friend or two – new recruits are always welcomed.
Topic: "Brandy Station: North America's Largest Cavalry Battle"
«Read the rest of this article»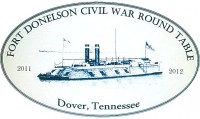 Dover, TN – On Thursday, July 18th at 7:00pm, the Fort Donelson Civil War Roundtable will be showing the film "Gettysburg Reunion". The film is being shown in commemoration of the 150th anniversary of the July, 1863, battle at Gettysburg.
All meetings are free and open to the public. The Fort Donelson Civil War Roundtable meets in the Stewart County Visitor's Center, 117 Visitor Center Lane, in Dover, TN.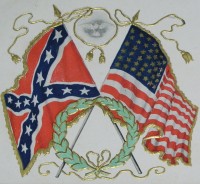 Dover, TN – The Friends Of Fort Defiance will present a Civil War Memorial Service on Sunday, June 3rd at 2:00pm. The service will be held at Riverview Cemetery near the Civil War mass grave-site.
Approximately 180 Civil War soldiers and veterans are buried in Riverview cemetery. 127 of those lie in one mass grave. Those in the mass grave were originally buried at the old Clarksville Female Academy that stood in the area of Madison Street and Cumberland Drive. «Read the rest of this article»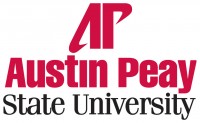 Clarksville, TN – In the study of history, certain events stand out. If you're examining the Civil War, for example, the Battle of Gettysburg will likely appear most often in textbooks and lectures. If it's World War II that interests you, D-Day is a popular topic of choice.
But these events, while important, are just a sampling of history. What about the contributions Native American soldiers made during World War I, or the role of African-Americans during the American Revolution? For two Austin Peay State University professors, it's sometimes frustrating locating textbooks that include the lesser known but equally important historical events.
«Read the rest of this article»