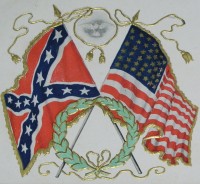 Dover, TN – The Friends Of Fort Defiance will present a Civil War Memorial Service on Sunday, June 3rd at 2:00pm. The service will be held at Riverview Cemetery near the Civil War mass grave-site.
Approximately 180 Civil War soldiers and veterans are buried in Riverview cemetery. 127 of those lie in one mass grave. Those in the mass grave were originally buried at the old Clarksville Female Academy that stood in the area of Madison Street and Cumberland Drive.
There were more than 305 soldiers buried near the Female Academy in addition to the two African American nurses who died while tending to the soldiers. The soldiers buried at the Female Academy, and subsequently re-interred at Riverview Cemetery, were casualties of the battle at Fort Donelson.
At least 105 of the deaths occurred before February 11, 1862 when the battle began and were likely victims of disease. A landslide in 1879 exposed remains necessitating their removal and reburial.
Members of Forbes Bivouac were in charge of the removal. Only 127 sets of remains were relocated to the Riverview Cemetery. The other 180 were left where they were originally buried and now lie underneath the Confederate Soldier's Memorial Bridge on Cumberland Drive.
The 127 men relocated to the Riverview Cemetery represent at least 7 states including Alabama, Arkansas, Kentucky, Mississippi, Tennessee, Texas and Virginia. The other 53 Civil War soldiers and veterans in the Riverview Cemetery are mostly local men who fought with local regiments in both western and eastern theaters. Most lived through the war to return home, but several bore the scars of combat including lost arms and legs, etc.
Of those who died in the war buried at the Riverview Cemetery – at least one was killed at Gettysburg, PA one was killed at the Battle of Franklin two were killed at Chicamauga one was killed at Chancellorsville one died from Typhoid fever in Virginia.
Included in the program will be recitations, laying of a wreath, a volley of shots and presentation of the colors.