Topic: Bob Hope

Clarksville, TN – The USS LST-325, 328-foot-long landing ship tank, will arrive in Clarksville on Wednesday, September 6th, 2017. The ship's arrival in Clarksville is one of the many activities that are part of Visit Clarksville's Welcome Home Veterans Celebration.
The LST-325 will be open for tours beginning at 9:00a.m. on Thursday, September 7th through 5:00pm Friday, September 15th. The LST will depart from Clarksville on Saturday, September 16th, 2017.
«Read the rest of this article»

Clarksville, TN – Clarksville's third annual Welcome Home Veterans parade is scheduled for Saturday, September 16th, 2017 at 10:00am in historic downtown.
"Originally created to honor Vietnam Veterans, the parade now a tribute by Vietnam Veterans to all American Heroes. This is a day for families, friends and all citizens to salute the service and sacrifices made by America's Military," said Visit Clarksville Board Chairman Jerry Allbert.
«Read the rest of this article»

Clarksville, TN – Visit Clarksville, in conjunction with the Montgomery County Veterans Coalition, is proud to host its third annual Welcome Home Veterans event September 13th-17th, 2017.
Multiple activities will be happening during the five-day period to celebrate and honor veterans, with an emphasis on Vietnam veterans.
«Read the rest of this article»
5 Combat Wounded to Get VIP Treatment at Craig Morgan Concert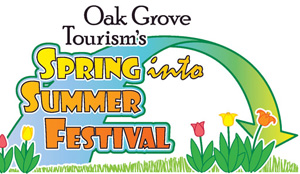 Oak Grove, KY – Five Combat Wounded Soldiers from the Warrior Transition Unit on Fort Campbell have been invited to a meet and greet with country star, Craig Morgan, before his performance at the Viceroy Performing Arts Center in Oak Grove, KY on May 28th, 2011.
 
The soldiers were invited by the Oak Grove Tourism Commission to join the VIP meet and greet and enjoy VIP seating during the show. The Warrior Transition Unit selected the 5 soldiers who will receive the VIP treatment. The concert is part of Oak Grove Tourism's 4th Annual Spring Into Summer festival which is free and open to the public.
«Read the rest of this article»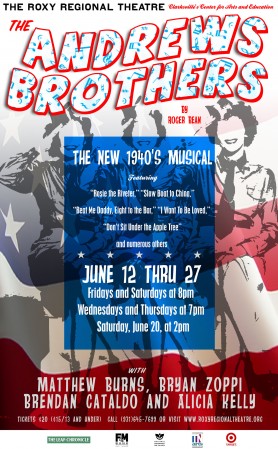 The Roxy Regional Theatre brings us The Andrews Brothers, a new play by Roger Bean.  Mistaken identities, madcap comedy and the greatest music of the 1940's fill this hilarious new musical. Three soldiers find themselves giving the performance of a lifetime when a certain singing trio of siblings fail to arrive at the USO gig. "Boogie Woogie Bugle Boy", "Slow Boat to China", "Shoo Shoo Boy", "Stuff Like That There", and "Don't Sit Under the Apple Tree" are but a few of the favorites in this valentine to the heroes of World War II.
THE ANDREWS BROTHERS runs June 12,13,17,18,19,20*,24,25,26,27
During the Vietnam era I watched Bob Hope on TV bringing entertainment tours to the troops in Vietnam.  Bob Hope showed how important laughter was as it worked its magic on the most stressed-out Americans.  If laughter could work on them, it could work on anyone.
Before the seriousness of life eventually swallowed them, my parents loved to laugh.  They grew up in hard times of the depression when it was impossible to laugh but imperative.  The saying, "Laugh or die" may have grounded itself in those times.  When TV found its way into our house in the 60's, many early TV shows were focused on humor:  Jackie Gleason and I Love Lucy are two we used to watch.  It takes great talent to be able to do something perfectly and then do it clumsily.  Old movies showed extraordinary talent:  singing, dancing, and acting with a main course of romance laid on a table of humor.  Something for everybody.  Bob Hope packed all this up and went to the soldiers with it. «Read the rest of this article»