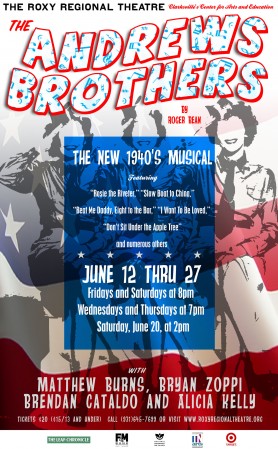 The Roxy Regional Theatre brings us The Andrews Brothers, a new play by Roger Bean.  Mistaken identities, madcap comedy and the greatest music of the 1940's fill this hilarious new musical. Three soldiers find themselves giving the performance of a lifetime when a certain singing trio of siblings fail to arrive at the USO gig. "Boogie Woogie Bugle Boy", "Slow Boat to China", "Shoo Shoo Boy", "Stuff Like That There", and "Don't Sit Under the Apple Tree" are but a few of the favorites in this valentine to the heroes of World War II.
THE ANDREWS BROTHERS runs June 12,13,17,18,19,20*,24,25,26,27
During the Vietnam era I watched Bob Hope on TV bringing entertainment tours to the troops in Vietnam.  Bob Hope showed how important laughter was as it worked its magic on the most stressed-out Americans.  If laughter could work on them, it could work on anyone.
Before the seriousness of life eventually swallowed them, my parents loved to laugh.  They grew up in hard times of the depression when it was impossible to laugh but imperative.  The saying, "Laugh or die" may have grounded itself in those times.  When TV found its way into our house in the 60's, many early TV shows were focused on humor:  Jackie Gleason and I Love Lucy are two we used to watch.  It takes great talent to be able to do something perfectly and then do it clumsily.  Old movies showed extraordinary talent:  singing, dancing, and acting with a main course of romance laid on a table of humor.  Something for everybody.  Bob Hope packed all this up and went to the soldiers with it.
I was reminded of this at opening night of The Andrews Brothers at the Roxy Regional Theatre.  The scene begins with three stage crew getting ready to entertain the WWII soldiers overseas.  Pinup girl and performer Peggy (Alicia Kelly) arrives as a lead-in act for the Andrew Sisters and the boys fall all over themselves about her.  Who wouldn't in her 40's hair style and short-short dress?  Patrick (Matthew Burns) stutters when he's around her, Lawrence (Bryan Zoppi) bumbles around with the most comical expressions and Max (Brendan Cataldo) steps on her feet when he gets close to her.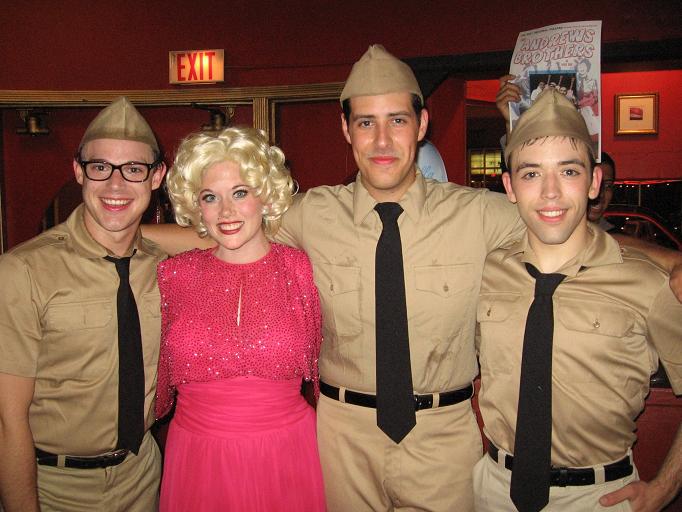 Peggy thinks these guys are her backup singers.  She hands out song sheets and they instantly break into song.  The talented stage crew are secretly hoping to get a break into the entertainment business but they can't even take praise when Peggy tells them how great they are.  When Peggy leaves the area, they burst into numbers of their own.  She finds them in song and dance and realizes their potential.
"The Andrew Sisters can't make it.  We can't go on without the Andrew Sisters.  We're going to have to close the show", says Max reading a telegram.  Peggy cries and the want-to-be performers know they will miss their only chance for stardom.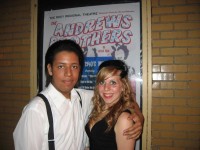 It's Peggy who comes up with another plan and the show goes on.
The Roxy cast makes dopiness look easy.  They do their parts perfectly; perfectly clumsy and hilariously funny.  Matthew Burns has stuttering down and then turns to be the perfect singer, dancer and romantic.  Bryan Zoppi's expressions throughout the play are vibrant and hysterical and the bunch give it their all in every song, dance and move.  There is never an empty moment on stage; there is always movement.  Piano is played by Anne Glass, drums by Josh Smith and bass by Thad Wallus.
I wasn't "excited" about going to show about songs from the 1940's.  I haven't really celebrated the talent of that time and I forgot about it.  I thought I didn't like most of the songs from that time but found myself nodding and clapping to the beat and remembering.  Some of the love songs were quite risqué and I was surprised by that also.  These people were swingers and that's the kind of entertainment and humor that got my folks through their dark times.
Live entertainment at the Roxy Theatre will take you into that time once again.  For real, for laughs and for fun!
Call 931-645-7699 during box office hours, Monday through Friday, 9:00 am – 12 noon.
http://www.roxyregionaltheatre.org/nowplaying/index.html
Email: