State Legislative Update Week June-8th-12th includes expansion of senior retirement opportunities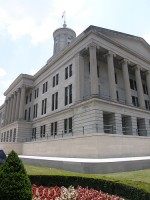 In bipartisan action this week the House of Representatives took action to pass legislation through the legislature. Under "the Long-Term Care Community Choices Act of 2008," the legislature charged the Tennessee Department of Finance & Administration and Tennessee Department of Health to create a foundation for providing Tennessee's seniors with the information and necessary resources for choosing the best retirement options.
On Thursday, the Tennessee House of Representatives, in a bipartisan effort that included District 67 Rep. Joe Pitts, (D-Clarksville), unanimously passed the second of four bills designed to expand retirement opportunities for seniors in Tennessee. Passage of the "Adult Care Home Act of 2009" builds on that foundation by creating standards of practice and review for a new kind of residential alternative: Level 2 Adult Care Homes. Residents who qualify under the bill are more critical need-based members who are either ventilator-dependent or who have suffered a traumatic brain injury.
"The seniors of today are living longer and stronger than those just twenty or thirty years ago and, as a state, we have a responsibility to provide our greatest generation with different options in how they want to spend retirement," said Pitts.
"As we have continued to build on the Tennessee long-term care system, the focus has been first to implement a program that can provide choices to those most in need," said Pitts. "With this new legislation, I believe we have taken that step and can now start looking to expand even further."
Under the new guidelines, level 2 adult care homes are small, homelike settings in local communities that deliver licensed care from residential managers who are licensed professionals. Providers with ventilator dependent residents must be doctors, nurses or respiratory therapists. For those suffering from a traumatic brain injury that list expands to include licensed rehabilitation or mental health professionals. Finally, these homes may have no more than five (5) residents living in the home at one time.
Pitts added that, "adult care homes are programs that are already seeing great success in other states around the county. These new homes will help improve the choices senior Tennesseans have when it comes to retirement."
The legislation is expected to pass quickly in the Senate later this week and be ready for the governor's signature before the end of the session.