Topic: Charlie Foust

Clarksville, TN – The Clarksville-Montgomery County Economic Development Council, the umbrella organization for the Chamber of Commerce, Industrial Development Board and Convention and Visitors Bureau, is the latest organization to become Clarksville-Montgomery County Green Certified.
«Read the rest of this article»


Clarksville, TN — It may be unusual for an artist and an iron foundry president to join together in a unique cultural endeavor. Then again, there is nothing usual about Clarksville sculptor Mike Andrews' "New Old Stock" exhibit at the Customs House Museum and Cultural Center.


The relationship between Andrews and the Clarksville Foundry began in 1983 after he visited the historic manufacturing company as a student of Tennessee artist Olen Bryant.
«Read the rest of this article»

Montgomery County, TN – The latest business to become Clarksville-Montgomery County Green Certified is also the community's oldest continuous industrial company.
The Clarksville Foundry celebrated the completion of its CMC Green Certification Program requirements Monday with their Green Ribbon Cutting Ceremony.
«Read the rest of this article»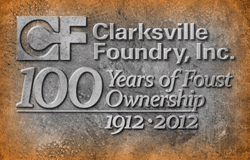 Clarksville, TN – Clarksville Foundry, one of Clarksville's oldest businesses and one of the oldest operating foundries in the United States, will be featured on Nashville Public Television's "Tennessee Crossroads" program.
The program will air on WNPT Channel 8 on Thursday, May 10th at 7:00pm and Sunday, May 13th at 10:00am.
«Read the rest of this article»
Questions still remain over recent concerns about "conflict of interest" within city and county government.  As I was first to report in a Clarksville Online exclusive, Conflict of interest questions still unanswered in county government, the question first arose with local architect Jerry Clark who at the time was a board member of the Regional Airport Authority.
In a meeting with County Mayor Carolyn Bowers, City Mayor Kim McMillan, and Montgomery County Accounts and Budgets Director Erinne Hester, Clark was informed that due to the County Purchasing Act of 1957, there could be a potential conflict of interest of him serving on that board, and his firm, Clark and Associates, doing business with the county.
It basically states that anyone doing business with the county, could not serve on any boards or commissions, and while there has been opinions rendered on both sides of the law, Jerry Clark chose to resign from the Airport Authority to prevent any conflct, and the county chose to take the other position.
"Hmmmm." «Read the rest of this article»
Montgomery County, TN – The first group of local manufacturers, businesses and government representatives completed the Clarksville-Montgomery County Green Certification Program (CMCGCP) workshops in late May. The group began its endeavor in March, 2011 and worked and learned together through a series of three workshops that lasted approximately four hours each.
«Read the rest of this article»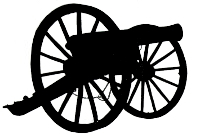 It was just 150 years ago that our nation was torn apart by the Civil War. Brother faced off against brother in often brutal battles. Even after the Union's victory and the eventual reunification of the southern states lingering tensions remained for many years.
It is said time heals all wounds and indeed and we are looking at the approaching sesquicentennial of the Civil War in 2011 with a air of celebration,recognizing of the history of America in a way that everyone can embrace.
We are fortunate to be in an area with a rich Civil War heritage including Fort Defiance (Fort Bruce), nearby Fort Donelson, and other Civil War sites. City and County leaders hope to be ready to attract tourists who will be the traveling the country visiting civil war era sites as a part of the Civil War Sesquicentennial.
«Read the rest of this article»