Topic: child development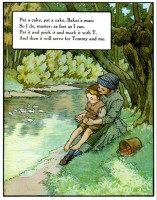 Have you ever sat and watched as an elderly woman bounces a bright eye baby on her knee? Have you observed how she wraps her aged hands around the soft newness of the young hands and brings them together in a game of Pat-a-Cake? This timeless game of baby bonding has spanned generations and brought laughter to young and old.
The earliest mention was found in Thomas D' Urfey's play The Campaigners from 1698. In 1765 it was written in the following format for the  Nursery book Mother Goose Melody.
Patty Cake, Patty Cake,
Baker's Man;
That I will Master,
As fast as I can;
Prick it and prick it,
And mark it with a T,
And there will be enough for Jacky and me.
Of course, each generation and each culture had its own version of this little rhyme making it their own. What your Grandmother may not have known was that she was teaching her infant important fine motor skills. When you take your baby's hands and bring them together where they touch you are not only working the developing muscles in their arms but you are nurturing hand-eye coordination. «Read the rest of this article»
World Breastfeeding Week is August 1-7, 2009
NASHVILLE – Emergency preparedness for families involves stocking supplies and making plans for coping with a crisis situation. Those plans should also include breastfeeding for infants. The Tennessee Department of Health is working to raise awareness of breastfeeding as a crucial practice during emergencies as part of the observance of World Breastfeeding Week, August 1-7, 2009.
The theme of World Breastfeeding Week 2009 is "Breastfeeding – A Vital Emergency Response. Are You Ready?" This theme highlights the need to protect, promote and support breastfeeding in emergencies for the survival, health and development of infants and young children.
"Children are among the most vulnerable groups during emergencies, and small children are the most vulnerable of all due to increased risk of death due to diarrhea and pneumonia," said Glenda King, breastfeeding coordinator for the Tennessee Women, Infants and Children (WIC) program. "Breastfeeding is one of the most effective ways to ensure child health and survival." «Read the rest of this article»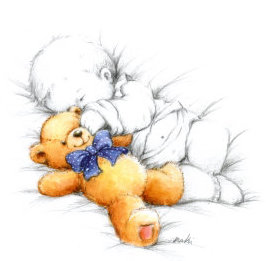 Do you know what the saddest part of my day is?
The first few minutes after I come out of Elle-Girl's room after she's gone to sleep. Yes, I know you must be thinking I'm crazy, or maybe being fake and unrealistically sappy, but its true.
Around 8 p.m. the business of bedtime begins: It's splish, splash in the bath, wiggle into warm Jammie's, and finish off the sippy cup of milk. It's brush her teeth, spit, repeat, "nigh, nigh, Sea" (Night, Night Sea turtle toothbrush), kiss daddy goodnight. It's the lowering of the night time shade, read the story one more time, "See" she says as she finds the frog on each page. Turn off the light, snuggle down tight, a brief nursing of Mamma's milk, drift off to sleep. «Read the rest of this article»
I am finding recently that a lot of opinions are being tossed about. With this being an Election year it seems everyone has something to say. Everyone thinks what they have to say is the truth. Everyone thinks what they have to say is important. So I say to everyone, you are right.
We all have a constitutional right to say what is on our minds. Our country was founded on that belief. However, more and more it seems that what someone has to say is not always welcome. In some cases even its forbidden, or even chastised. Who are we to slap a hand or remove a blog, or delete a comment that someone has posted just because its what they perceive to be as right, whether we agree with it or not!
It's a delicate time we are living in. You must be careful what you say to someone. You must always be politically correct. You must always be conscious of someone's feelings. «Read the rest of this article»
Last night after a family dinner out at our favorite pre-baby restaurant, Old Chicago, we thought we would make an attempt to return to post-baby normalcy by going to a book store that we had not ventured into since before Elle-girl was born.
We never took a small baby to this particular book store because we didn't want to be "those" parents of an obnoxiously loud toddler screaming its head off because it couldn't get what it wanted, you know the type, the ones that people who don't have children scoff at ?
We thought that now that our well mannered daughter was a bit older that we would try it. Not taking into consideration that it was 9 p.m. at night, and our toddler is usually curled up in her footie pajamas by this time any other night of the week.
It started off well. She seemed stunningly overwhelmed by the mass majority of her favorite thing in the whole wide world all around her, books!
She was all smiles and all whispers, just like planned! «Read the rest of this article»