Topic: Hocus Pocus Entertainment
Clarksville, TN – Magic fans young and old can enjoy an evening of family-friendly entertainment this Saturday at the performance of "4 Magicians and 1 Rabbit." The performance is being held as a fund-raiser at the Unitarian Universalist Fellowship of Clarksville beginning at 6:30pm, Saturday, November 4th, 2017.
Featuring magic, mind-reading and balloon animals, the show is presented by members of the Tri Cities Magician's Society, a Clarksville-based magic club.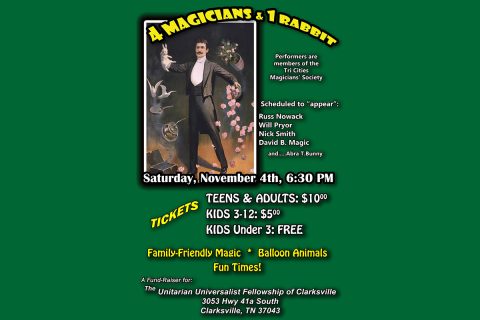 «Read the rest of this article»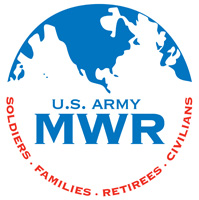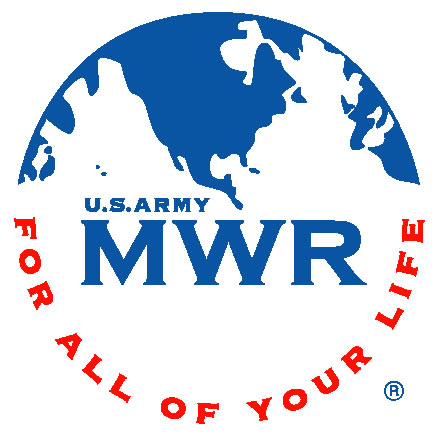 Fort Campbell, KY – Join Family and MWR and "Experience the Magic" of master magician, Russ Nowack, as he performs amazing magic tricks with silks, ropes, rings, cards, appearing and disappearing objects and more!
This is a high energy show filled with comedy, magic and surprises that the entire Family can enjoy.
«Read the rest of this article»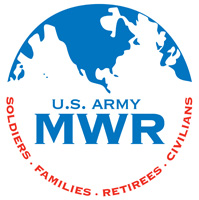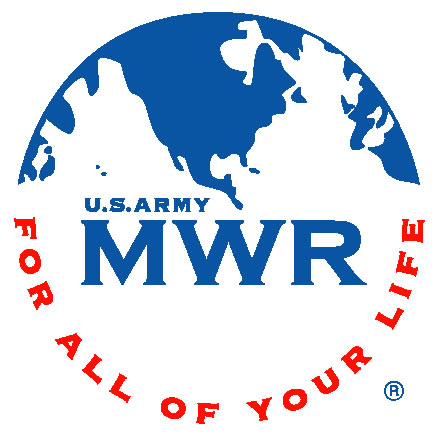 Fort Campbell, KY – D.W. Recreation Center has lots of fun activities planned for July!
As always, you are invited to participate in their recurring events: Play in a 9-Ball Tournament on Monday at 6:00pm; Madden 13 Tournament on Tuesday at 7:00pm; Dart Tournament on Wednesday at 7:00pm; Spades Tournament on Thursday at 6:30pm, Table Tennis Tournament on Friday at 7:00pm; and an 8-Ball Tournament on Saturday at 3:00pm.  «Read the rest of this article»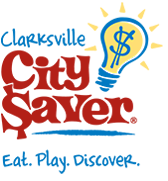 Clarksville, TN – Clarksville City Saver officials presented a check on Saturday to the Clarksville/Montgomery County Education Foundation for $200,000 for their part in the recent system-wide coupon book fundraiser. This is the third year that City Saver and the Education Foundation have partnered on this project to help local schools.
«Read the rest of this article»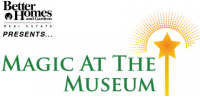 Clarksville, TN – Magic at the Museum returns to the Customs House Museum on Saturday, June 25th with pre-show activities beginning at 6:30pm with a wine and cheese reception. The main stage show starts at 8:00pm. After a very successful first event that was geared towards children, this "Magic" event will appeal more to an adult audience. Come out for an amazing night of magic, music and comedy. «Read the rest of this article»
Clarksville, TN – Yesterday Maurice Vaughn from Better Homes and Garden Real Estate Hometown Connection presented a check for $1600 to Kenny York from Mana Café Ministries. The check is the proceeds from the first Magic at the Museum benefit show.
York organized Mana Cafe Ministries together with his wife Vicki in May 2010. Together they have a combined 16 years experience serving the poor.
«Read the rest of this article»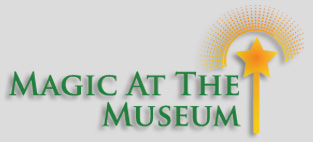 Clarksville, TN – On Saturday, March 26th at 2:00pm, Bonehead Promotions held their first Magic at the Museum magic show at the Customs House Museum. The show featured the extremely talented Russ Nowack of Hocus Pocus Entertainment.
Other activities included a balloon animals created by Roger Patton Magician and Balloon Artist, and face painting.
«Read the rest of this article»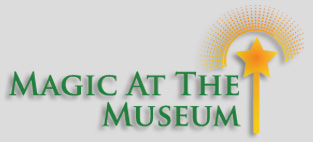 Clarksville, TN – The Customs House Museum becomes "magical", Saturday March 26th, as "Magic at the Museum" launches a series of magic shows for charity.  Better Homes and Garden real estate presents a wonderful afternoon of magic, featuring balloon tricks, face painting for the children, illusions and more.  «Read the rest of this article»