Clarksville, TN – Magic fans young and old can enjoy an evening of family-friendly entertainment this Saturday at the performance of "4 Magicians and 1 Rabbit." The performance is being held as a fund-raiser at the Unitarian Universalist Fellowship of Clarksville beginning at 6:30pm, Saturday, November 4th, 2017.
Featuring magic, mind-reading and balloon animals, the show is presented by members of the Tri Cities Magician's Society, a Clarksville-based magic club.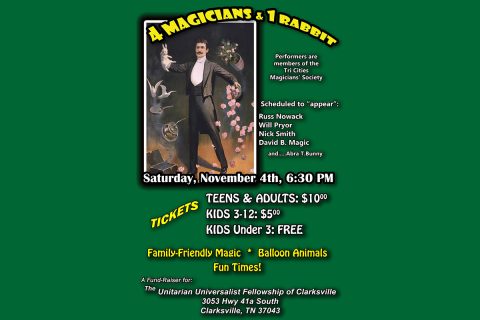 The club's president, David B. Magic says this is an opportunity for families to spend an evening together for live entertainment that appeals to all ages. "Magic is about doing the impossible and making dreams into reality."
Mr. Magic (aka Bilan) says the performers have all been into magic since they were children.
Russ Nowack (Mr. Hocus Pocus) may be familiar to patrons of Chick-Fil-A as a regular performer. Will Pryor has been heard announcing college sports at APSU and both Mr. Magic and Nick Smith work at Fort Campbell as civilian employees. Abra T. Bunny is a typical magic rabbit.
Tickets are $10.00 for adults and teens; $5.00 for kids 3 – 12 and free for kids 3 and under. Tickets are available at the door and seating is done on first-come basis. The Unitarian Universalist Fellowship of Clarksville is located at 3053 Hwy 41A South.
For more information, go to Facebook and look for ClarksvilleTNMagic or Tri Cities Magicians Society.