Topic: Homosexuality
I've been reading a lot lately about people who are not going to vote or who are going to vote specifically for someone other than the two main nominees for US President. That is where this all comes from…
The reason we vote, friends, is to nominate who we feel will be the best leader and manager of our country's affairs. This is just like a company promoting someone within to CEO/President. If you are an employee of a company and are asked to nominate the next CEO (yes, I know they're nominated by votes by the board of directors – just bear with me here), you know that whomever you select will be directly responsible for the economics of your household; income, insurance, cost of living, etc. There are other variables, of course, but that sums it up. «Read the rest of this article»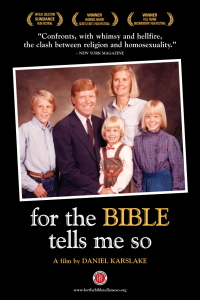 My wife has a book that I have intended to read for years, but never found the time, "What the Bible REALLY says about Homosexuality." Then I saw this movie available on Netflix, "For the Bible Tells me So" , and thought at this point in my life, I'm much more likely to get a quick movie in than to read a book.
The movie introduces you to several families that have two things in common 1) strong religious ties, and 2) a family member that is a homosexual. Director Daniel Karslake's selection of families with different backgrounds is sure to connect with a variety of viewers. Theres a Midwest lawyer and stay at home mother that are Lutheran; a African American couple from North Carolina who are ministers in a AME church; there a Episcopalian elderly white couple from blue collar rural Kentucky (no spoiler here but their child was the first openly Gay bishop in the Anglican church, Gene Robinson); a single middle class mother, and a long time politician Dick Gephardt and his family.
«Read the rest of this article»
Get a good night's sleep, dress properly, be courteous, be on time, and be prepared. This sounds like advice for a job interview, but according the the folks at Tennessee Equality Project, it's also good advice for preparing to meet one of your state legislators, which was why they were in town last Thursday.
TEP is gearing up for its annual "Advancing Equality Day on The Hill" event. The event will start on February 18 at 3:30 PM with a candidate training at the Red Restaurant at the Tribe Bar on Church Street. The candidate training is free and open to the public, and is meant for those who may be interested in or who are already running for state office. After the candidate training there will be a reception in the small room at Tribe starting at 6PM. The event continues the next morning with a breakfast meeting at the Rymer Art Gallery on 6th Avenue, where the Honorable Sherry Jones will deliver the keynote address. TEP will then relocate outside the office of Mr. Speaker Naifeh's office while participants head out to meet with their legislators for the day. «Read the rest of this article»

Well, it has been a few days but there's still quite a bit of hubbub about Anne Coulter implying, yes implying not outright stating, that hopeful John Edwards is a "faggot" igniting a firestorm of criticism from both Republicans and Democrats alike. Consider the entirety of Coulter's speech, however. Other high points include ridiculing Al Gore (in regards to his weight), criticism of Senator Clinton (her most rational comments of the night, as they could be construed as legitimate criticism), and a rather lengthy section on Barrack Obama (whom she called something to the effect of Barrack Osama) and his family heritage. When taken in that context are Coulter's comments about Edwards anything other than normal? Not really. The woman does it for a living as the Republican equivalent to Michael Moore and Al Franken (who, incidentally are just as bad as Coulter). So, certainly, by all means, get rid of Ann Coulter, but do it in a manner that will actually work.
I recently received electronic mail from a friend of mine encouraging people to write to the companies responsible for bringing Coulter's venomous rhetoric into the public and encourage those companies to end their relationship with Coulter. The suggestion is actually a great idea. The media operates in a free market (or at least, in name) meaning that as long as Coulter attracts significant attention and makes them money she will continue to be featured by various media. The best method of getting rid of Coulter, and coincidentally all the other two-bit venomous commentators of America, is to convince the people that air their rhetoric that it would be in their economic best interests to sever their ties with them. Of course, a necessary corollary to this plan is to stop paying attention to the likes of Coulter, or to make a joke on Coulter's own words, let her encourage us to conserve energy when we see her on TV by cutting it off and ignoring her.

Like only he can, Jon Stewart dismantles the lies, cover up attempts, the blame shifting games, and exposes the justly deserved shame of the Congressional Republicans and their leadership on a subject they deserve to be torn apart on.
A Republican, a anti-gay congressman was sending inappropriate sexually explicit instant messages and emails to male Congressional pages. These pages are minors who are between the age of 16 years old to 18 years old. The Republican leadership have known about his predilection for at least 3 years, and more likely 10, and in that entire time has done absolutely nothing to protect the young people who are serving our Nation as pages.
«Read the rest of this article»