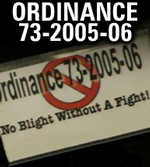 The Steering Committee of the Clarksville Property Rights Coalition has requested that the CPRC, and the groups who are working with us, the Tennessee Preservation Trust and the Clarksville NAACP, be afforded the same opportunity as the Downtown District Partnership to make a presentation to the City Council at the June 10th Informational Meeting on the Clarksville Center Redevelopment Plan.
That meeting will be held at 6 p.m. at Clement Auditorium as Austin Peay State University, which is the only downtown property not affected by the redevelopment plan's "blight" designation.
In November, 2007, the City Council passed an ordinance declared two square miles of downtown Clarksville as "blighted" for purposes of redevelopment. Homeowners caught unaware by the ordinance and its implications in terms of eminent domain and "blight" form a quick and fast protest and have called for the rescinding of that ordinance.
The CPRC, the TPT, and the NAACP requested a minimum of 30 minutes to address the Council on June 10th, time to be allocated among our three organizations, or an equal amount of time as provided to the DDP (Downtown Development Partnership), if they are given more than 30 minutes. «Read the rest of this article»
Crossing into blue state territory is always an adventure; being in blue state territory as the first presidential caucuses and primaries unfold is, to say the least, exhilarating.
From my cozy corner in a computer lab, far from radio and completely without television's frenetic coverage, I watched the Iowa caucus results unfold on the web: a few surprises, a lot of predictability. Today I keep checking in on the New Hampshire vote.
One of the more interesting quirks in snow-bound New England is the midnight in two of New Hampshire's smallest communities, Dixville Notch and Hart's Location.
Notch voters turned up at the midnight hour to toss seven votes to Barrack Obama, three for Hillary Clinton and one for John Edwards. On the Republican side, Dixville gave John McCain six votes, Romney two and Rudy Giulliani one.
Hart's Location voters put nine votes on Obama's tally sheet, three for Clinton and one for Edwards. As for the Republicans in Hart's location, John McCarn took six votes over Mike Huckabee's five, with Ron Paul taking 4 and Mitt Romney matching Edward's single vote. Reportedly, voters are turning out in significant numbers, and a spate of winter thaw and 50 degree temperatures won't hurt that turnout one bit. «Read the rest of this article»
Yesterday's New York Time's Magazine cover story, "Can You Count on Voting Machines?," offers valuable and in depth coverage of electronic voting machines and the threat they pose to the foundation of our democratic process – our right to vote in free and fair elections.
In Tennessee, 93 out of 95 counties use electronic voting machines with no voter verifiable paper trail. That means there is no way to be completely sure of an accurate tally or recount in the event one is needed.
This Thursday, January 10, the legislature's Voter Confidence Act Legislative Study Committee will meet to discuss the findings of the Tennessee Advisory Commission on Intergovernmental Relations (TACIR) report, "Trust But Verify," which recommends that to improve election integrity in Tennessee we move away from electronic voting machines and replace them with paper-based optical scan machines. «Read the rest of this article»