On September 6th and 7th the annual Trail of Tears Pow Wow took place in Hopkinsville, Kentucky.  This Pow Wow is on the same weekend as the Clarksville Riverfest (that's how I remember when it is).  I went there on Sunday afternoon (9.7.08) and saw several types of competition dancing for different ages and styles.  The hot day got hotter watching the young men give it their all in their competition run off.
For the run-off they did the chicken dance.  One might think that would look funny, like the white man's version, but it was wildly fantastic leaving the audience roaring with applause.  One could see from the dancers' movements that a chicken, like other animals who live on this planet with us, has it's own "dance" that we can either laugh at and feel superior to, or study and learn from with respect to that animal.  It's a choice that my culture usually doesn't consider.
While the drummers, singers and dancers took a break, I bought an Indian fry bread, taco style, and while eating listened to the storyteller speak and play his flute.  Then I roamed around the booths surrounding the dance arena.  I moved through the crowds of people, checking out dream catchers, jewelry, leather goods, pottery, finger puppets, flutes, CD's, tee shirts, sage, books, toys and tea. «Read the rest of this article»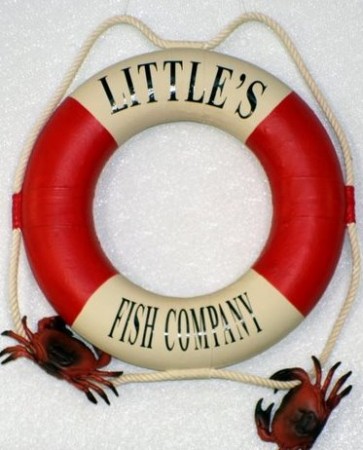 Family-owned seafood business discovers New Providence Boulevard; new businesses continue area's revival as commerce reshapes the face of the boulevard. Used car lots give way to eateries, restaurant equipment supplies and sales, family dental health care … now, fresh seafood joins the mix!
Clarksville's fresh seafood lovers have a new venue to indulge their fresh fish desires. Fresh seafood is now available daily in New Providence!
Little's Fish Company has opened for business. Located at the corner of Providence Boulevard and Beech Street on the former Subaru dealership property, the business has easy access and convenient parking.
With the July 7th opening of Little's Fish Company, a family seafood marketing tradition with roots in Nashville has been extended to Clarksville. Chris Little's grandfather started the original family operation at Nashville's Old Farmers' Market. After completing his military service in the U.S. Army, Chris' father, Phillip Little, joined his father at the Old Farmer's Market. As a young man Chris worked with his father in the Nashville operation. Now, having graduated from Austin Peay State University in 2001, grandson Chris Little brings the family tradition to Clarksville with the opening of Little's Fish Co. on Providence Blvd. «Read the rest of this article»

The public is invited to Clarksville Academy Tailgate '08, a pre-game celebration before the CA vs. Cascade game on September 12. The Tailgate Party is held in conjunction with the Canady Field House Ribbon Cutting  ceremony. The Tailgate begins a 5:30 p.m. at the sports complex with the ribbon cutting at 6:30 p.m. Participants can bring their own tailgate picnic or purchase food from the concessions. Concession items including hamburgers, hot dogs, baked beans, chips, drinks and dessert) will be sold either individually or as "plates."