Special Weather Statement In Effect ... [Click here for more information]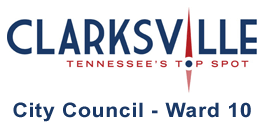 Clarksville, TN – The committee met yesterday afternoon (October 15th) to take up the issue of prior ethics complaints against Clarksville City Council members.

If you refer back to my October 12th email on the subject, you will recall that Mayor McMillian had told council members in the September 27th, 2012 executive session that if someone wanted to sponsor a resolution to officially close out an allegation(s) they should do so at the next city council regular session meeting of October 4th, 2012.

Councilwoman McLaughlin did sponsor such a resolution, which was received with little enthusiasm by the Mayor and some council members during that regular session. The mayor kept trying to focus on new actions on future issues and forget the past ones. The statement of "taking no action" was, in essence, "taking action" by those wanting the topic to go away.  In the end, McLaughlin's resolution was sent to the Procedures Committee for further action.

In a well-scripted discussion, Councilman Grubbs and the Mayor parroted that same "no action" phrase at this afternoon's committee meeting. It appears that procedural documents that have been on the city books for years on the how's, why's and when's of ethics procedures are now not clear and do not accurately explain what is a real complaint. So, how can we really know what is a real issue?

The council officially opened a case/issue for further investigation by approving and hiring an outside attorney to research issues with the City Codes Department that included allegations of potential ethical or procedural wrongdoing by Councilman Burkhart. The investigation did not find any support for the allegations against Burkhart, but the council took no official action to close the case/issue.

It is in the city records that the council officially started an investigation, but nothing will be found in the record that the council closed it after learning of no evidence supported it. This case would seem to be a rather easy one to fix and officially close out. However, the concept of doing so seems to invoke wide-eyes, raised blood pressure, and the inability to comprehend written text and previously approved procedures.

In my October 12th article, I also mentioned that Mayor McMillan restacked the Procedures Committee. This would ensure she had the votes to carry out her desire, which was to have no further action on these previous cases.  The committee meeting became the charade that was expected. The mayor basically stated she does not want further action taken to address these cases.

After a little more discussion and ignorance pleaded by some as to what were we doing here and trying to accomplish, Councilwoman Johnson called for the "question". The question carried, which ended any more work/discussion on the topic. In a 3-yes (Steward, McLaughlin, Summers) & 4-no (McMillan, Grubbs, Lewis, Johnson) vote, the resolution will be sent back to council with a disapproval recommendation. They were not interested in correcting the format/procedural deficiencies the mayor and a couple of council members made about the resolution during the regular session.

Mayor McMillan touts open government as the foundation of her administration's actions. However, the documented actions and statements on addressing these issues and political gamesmanship involved would indicate otherwise.   At one council meeting she tells council members to come forward with resolutions that would address and officially close out these previous ethics allegations. Then when a council member follows her suggestion and shows up at the next council meeting with such a resolution, the mayor works to ensure that nothing is accomplished or approved in regard to that resolution for closure.  One has to ask: for what purpose?
---
Editor's Note: This article contains the view points of Councilman Bill Summers and may not represent the views of the rest of the City Council, the City of Clarksville or ClarksvilleOnline.
About Bill Summers
Sections
Politics
Topics
City Council Ward 10, Clarksville City Council, Clarksville Mayor, Clarksville Procedures Committee, Clarksville TN, Kim McMillan