Ice Storm Warning In Effect ... [Click here for more information]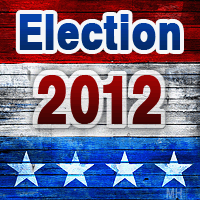 The Presidential/Vice-Presidential debates have been a mockery of what used to be an American tradition of healthy debate between the  two political parties that run this country.  What they've become is just another "reality" show, and we're all waiting for that "did you hear what he said last night" moment.  One needs to only look at the legion of fans the Kardashians and "Honey Boo-Boo" has to remind ourselves how stupid this country has become.
Remember, we're the same ones who think it's perfectly alright to drive 90 miles an hour down the interstate, while looking down at our cell phone.
I rest my case.
The debates are doing nothing to unite this country behind one candidate or another.  What they're doing is dividing this country even more.   If you haven't already decided who you're voting for in this Presidential election, then you shouldn't be allowed to vote. Seriously, are there still that many people undecided?
Not hardly.
Not only do these debates reveal all that is ugly about politics, but they expose the horrible media bias that exists in this country.  Throw in all the social media comments and internet blogs and what you have is a country ripe for some serious civil unrest.  The passion we have for one party or another has started to divide families, friends, co-workers, and every other segment of our society.
On any given Facebook post you will have friends attacking other friends over their political views.  Getting personal, racist, and homophobic.  Trust me, social media will be the downfall of this country.  Just follow some of the Twitter streams related to this election and you'll see what I'm talking about.   My prediction is that on the night of the election, their will be serious riots in the streets like we've never seen before.  Burning cars, fires, destruction, fights and shouts of "racism" everywhere.
I'm already seeing tweets about "keeping the black man down" and "this country ain't nothing but white" and "if Obama loses, then we gonna f*** some s*** up."
Touch of class.
We have no respect for opposing views anymore.  We attack as if our life depends on it.  To be honest, all of us who use social media are to blame for the "tone" of this election.  We're the ones who perpetuate the hate, the homophobia, the racism, the lies.  We think we're just being "cute" with our comments and cartoons, but what we're really doing is making it worse.   I've watched a lot of people that I have a lot of respect for say things on Facebook that make me sick.  I've watched my African American friends  play the race card time and time again.
Could you imagine if Clint Eastwood had told that chair that he was voting for Romney because he was white?
So, why do we accept  Samuel Jackson admitting he voted for Obama because he's black?
He should have been roasted for saying something like that.  (oops, I forgot, liberal media)
I'm confused.
The reality is that this country is in serious financial trouble.  Anybody who runs a business knows that.  Our tax dollars are flowing to the enemy in the middle east.  Our lips are stuck on the nipple of big oil and we're all so frustrated that the only way we feel we can do something is to lash out on Facebook.
We're making it worse.
So, please, no more debates.  I think Honey Boo Boo has another pageant.
About Hank Bonecutter
Hank Bonecutter is a forty year broadcast veteran and former radio station owner. His career included, talk-show host, journalist, writer, and producer.  He is president of Bonehead Promotions, an advertising consulting and media firm. He is the owner of www.clarksvillesportsnetwork.com and www.nashvillesportsnetwork.com, and is a contributing author/journalist for Clarksville Online.

Hank worked at several Nashville radio stations, including WKDF, WLAC, WKQB and WKDA.

He hosted and produced Clarksville's longest running morning talk-show, "The Bone Show," from 1994-2012.

Hank is also a stand-up comedian, having performed at some of the top comedy clubs in Tennessee, Kentucky and Georgia.

Hank produced a series of stand-up comedy shows, "Comedy on the Cumberland, " in Clarksville to benefit local charities.

You can follow Hank on Facebook and Twitter, @bonecutter01 and @boneheadnews.

Web Site: http://www.clarksvillesportsnetwork.com/
Email: hbonecutter@clarksvilleonline.com
Sections
Commentary
Topics
Barack Obama, Clint Eastwood, Election 2012, Media Bias, Mitt Romney, presidential debates