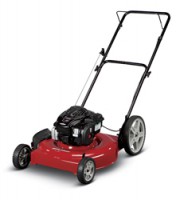 Clarksville, TN – I took my lawn mower to a local repair shop, because I had mistakenly left some gas in the tank last year and it went bad. This generally requires that the fuel line and fuel pump or filter be cleaned out.
The shop I took it to immediately started going on about the carburetor being clogged, and added that it may not be cleanable, clearly forgetting that the reason lawn mowers have a priming bulb is that fuel drains out of the carburetor after sitting for just a few hours.
This didn't give me a good vibe, so needless to say I didn't have them do the repair.
I went down to Hardware City and spent $9.00 to buy some carburetor cleaner, and some starting fluid.
When I got home, I removed the fuel line and it was draining just fine. I sprayed the cleaner into the intake of the fuel pump, and into the barrel of the carburetor. 15 minutes later and after a little starting fluid the mower was purring perfectly fine.
I suspect that the shop was was trying to con me into buying an unneeded carburetor.
The moral of the story is, if you suspect a repairman is trying to take advantage of you don't be afraid to take it somewhere else for a second opinion; or just do the repair yourself. In this instance, I saved myself at least $140.00-$200.00, and a clearly unneeded repair.
About Bill Larson
Bill Larson is  is politically and socially active in the community. Bill is a member of the Friends of Dunbar Cave.

You can reach him via telephone at 931-249-0043 or via the email address below.
Sections
Commentary
Topics
Carburetor, Clarksville, Clarksville TN, Gasoline, Hardware City, Lawn Mowers, Repairman, scams, Small Engine Repair