Freeze Watch In Effect ... [Click here for more information]
APSU Women's Tennis

Clarksville, TN - Austin Peay women's tennis closes the regular-season with a 1:30pm, Friday, match against Jacksonville State. Prior to the match, the Lady Govs will recognize Brittany Hays, the program's only senior.
The Lady Govs have won back-to-back OVC matches, against Eastern Illinois and at Murray State. Sophomore Carolin Weikard has played especially well as of late, winning four of her last five matches at No. 2 singles. Along with junior Vanja Tomic, who dropped her first-ever OVC match against UT Martin, the Lady Govs have been strong at the top.
«Read the rest of this article»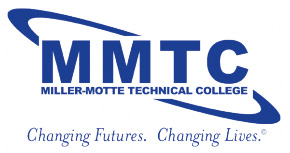 Clarksville, TN - In light of recent disasters in Japan, the students, faculty and staff of Miller-Motte Technical College (MMTC) created a campaign called Jeans for Japan to raise donations for the cause. Employees were encouraged to pay $1.00 to wear jeans instead of scrubs or professional attire.
«Read the rest of this article»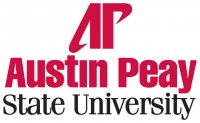 Clarksville, TN – Dr. Joseph B. Trahern Jr. was presented the 2011 Tennessee Board of Regents Chancellor's Award of Excellence in Philanthropy during the 53rd Annual Tower Club Dinner meeting at Austin Peay State University, held April 1st.
APSU President Tim Hall, who nominated Trahern for the award, said, "Though Dr. Trahern never taught at APSU, our institution has been fortunate enough to be the recipient of his extreme generosity. As a native of Clarksville, he understands the important role APSU plays in this community."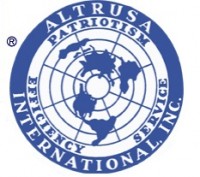 Clarksville, TN - The Altrusa International of Clarksville will hold their annual fern sale on Saturday April 9th at First Federal Savings Bank, 1929 Madision Street, next to Hardee's.
The huge ferns are only $16.00 with proceeds going back into the Clarksville Community for bettering education and community needs.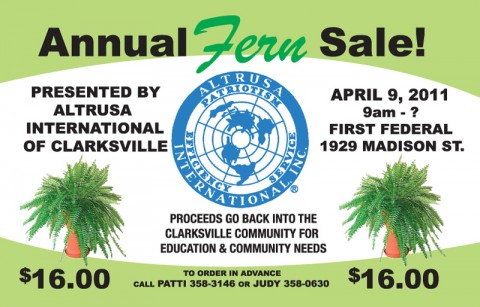 Clarksville, TN - On April 6th, 2011, around 8:48pm, a multi-car crash sent four to the hospital and closed Trenton Road for 1 ½  hours. A Honda Accord driven by Kenneth Owensby, 50 was traveling south on Trenton Road without his headlights on.
A Mazda Pickup, driven by Garrett Potts, 19, pulled out of a private residence in front of the Honda to head southbound. The Honda then crossed the center line into the northbound lane of Trenton Road colliding with a Chevrolet pickup, driven by Robert Whitlow, 72. The Honda continued on and sideswiped a Toyota Camry, driven by Amanda Kellett, 30, also traveling northbound.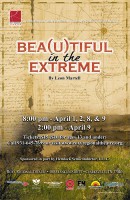 Clarksville, TN – Taking a chapter out of the history books and bringing it to life is what the Roxy Regional Theatre has done with their production of Bea(u)tiful in the Extreme. The play follows the life of Meriwether Lewis through a series of flashbacks from his youth, the grand journey with William Clark and across a young America, through to his untimely death.
The plot recounts encounters with the hospitable but doomed Mandan people, raging rapids, various pests and pestilences, suspicious Lakota warriors, frozen mountain passes, and York, a slave who is seeking to develop his own ideas of freedom.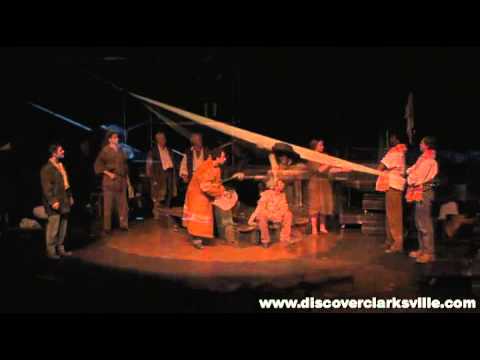 «Read the rest of this article»


Clarksville, TN - Clarksville Parks & Recreation is excited for the upcoming 5th Annual Doggiepalooza. This free event will take place May 7th from 1:00pm to 4:00pm, at the Heritage Park Bark Park. Bring your 4-legged family members for a day full of demonstrations, contests, prizes and much more!
«Read the rest of this article»

Tulsa, OK – Bob Brooks, who served as Austin Peay State University's athletic director from 1984-88, died in his sleep Tuesday in his Tulsa home. He was 79.
Brooks worked more than 30 years in intercollegiate athletics. He came to Austin Peay from Oral Roberts, where he served as Athletics Director from 1976-83. He hired Lake Kelly as that university's basketball coach in 1977.
Oak Grove, KY – On Monday April 5th, the tenant of this home on Desota Lane was cooking in the kitchen when she decided to go to the other  room for a moment and when she returned, the kitchen was in flames and within minutes the house was fully engulfed in flames.
APSU Men's Baseball

Clarksville, TN – Austin Peay scored five runs in the first inning and rolled to an 11-4 non-conference victory against Middle Tennessee, Wednesday night at Reese Smith Field.
Austin Peay (13-14) sent 10 men to the plate in the opening inning, scoring five times. The Govs scored their first run courtesy a Middle Tennessee error but then got RBI singles from first baseman John Hogan and a sacrifice fly by shortstop Reed Harper. Catcher Matt Wollenzin capped the inning with a RBI single that provided the eventual game-winning run.
«Read the rest of this article»