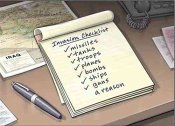 I frequently review the top 100 videos on both Google video, and Youtube, looking for interesting materials to share with the readers of this website. I look at the dross, so that you don't have to.
Since September 11th there have been those who say that what we actually saw, may not have been what we thought. Videos on this subject have been in the top 100 videos on Google video for a long time. Well after a new one recently appeared in to the top 100 videos, I felt that perhaps we should all take a look. I make no judgments on the content of these videos. I don't advocate for them or against them, consider this simply an exercise in constructive reasoning.
9/11 Loose Change Second Edition
[googlevideo]7866929448192753501[/googlevideo]
"Loose Change 2nd Edition" is the follow-up to the most provocative 9-11 documentary on the market today.
This film shows direct connection between the attacks of September 11, 2001 and the United States government.
Evidence is derived from news footage, scientific fact, and most important, Americans who suffered through that tragic day.
9/11 Mysteries (Full Length, High Quality)
[googlevideo]-6708190071483512003[/googlevideo]
This is a brand new public domain 9/11 Truth documentary about the controlled demolition of the World Trade Center complex.