A travelling Fool takes his puppet stage to a desert planet. In this retelling of the myth, eating the apple is an essential step towards changing from puppet to human, and part of his plan from the beginning.


Way back in June 2006, some of the Haiku Challenge keywords were Tree, Apple, and Fall. That led me to the Adam and Eve story. Reflecting on what it is to be a stop-motion animator today led me to the main character – you've got to be a fool to do it, but you also have this godlike power to create characters and worlds.
«Read the rest of this article»
Michael Moore is coming out with a new documentary called SiCKO. It is a harsh look at the American health care system. SiCKO opens in theaters everywhere on June 29th.

When asked about SiCKO, Michael Moore responds , "Sicko is a comedy about 45 million people with no health care in the richest country on Earth." I personally disagree with Michael Moore on that one point, this is not a funny subject.
A reviewer on the Internet Movie Database web site had this to say:
A man without health insurance (companies simply refuse people), whose middle- and ring finger are cut off, had to choose between paying 60.000 dollars for having his middle finger restored and 12.000 dollars for having his ring finger fixed. Being the "romantic" that he is, he chose his ring finger. A woman, formerly with a good job, bankrupted by her medical bills and forced to live in the study of her daughter, has to pay 240 dollars a month for her cancer medication but gets the same pills on Cuba for… 10 cents. 45 Million uninsured Americans live in fear that they might, some day, need medical care. The rest of the world doesn't know these fears, because for them, medical help is free: paid for by tax money. The United States have become ruthless to it's own people. It contradicts the image Americans have of themselves and their country, but it's the awful truth. – Ivo Martijn
«Read the rest of this article»
A view on race relations in America

America is a very young country but is the wealthiest country in the world. With over 400 years of free labor off the backs of enslaved Africans it not only explains its # 1 economic power position among all nations, but also why we still and must continue to fight for equality for all Americans. You can not wipe away over 400 years of institutionalized slavery in a mere 142 years. Remember the law of the land as stated in the United States Constitution declared slavery very much legal and all black people property. We are still healing as a nation people! (read more)
After watching his roommate fatally wounded in a roadside bombing, an Army Specialist wonders why the lives of good men are being lost when the Iraqis pose no threat to us and don't want us there.
BAGHDAD, May 12 — My name is Donald Hudson Jr. I have been serving our country's military actively for the last three years. I am currently deployed to Baghdad on Forward Operating Base Loyalty, where I have been for the last four and a half months.
I came here as part of the first wave of this so called "troop surge", but so far it has effectively done nothing to quell insurgent violence. I have seen the rise in violence between the Sunni and Shiite. This country is in the middle of a civil war that has been on going since the seventh century.
Why are we here when this country still to date does not want us here? Why does our president's personal agenda consume him so much, that he can not pay attention to what is really going on here? «Read the rest of this article»
Cindy Sheehan is a woman warrior who has spoken for many Americans. Her son gave everything, and she has given up much of her life on this altar of protest.

I have endured a lot of smear and hatred since Casey was killed and especially since I became the so-called "Face" of the American anti-war movement. Especially since I renounced any tie I have remaining with the Democratic Party, I have been further trashed on such "liberal blogs" as the Democratic Underground. Being called an "attention whore" and being told "good riddance" are some of the more milder rebukes.
I have come to some heartbreaking conclusions this Memorial Day Morning. These are not spur of the moment reflections, but things I have been meditating on for about a year now. The conclusions that I have slowly and very reluctantly come to are very heartbreaking to me.
The first conclusion is that I was the darling of the so-called left as long as I limited my protests to George Bush and the Republican Party. Of course, I was slandered and libeled by the right as a "tool" of the Democratic Party.  This label was to marginalize me and my message. How could a woman have an original thought, or be working outside of our "two-party" system? «Read the rest of this article»
"Dissent is the highest form of Patriotism."
"Courage is contagious. When a brave man takes a stand, the spines of others are often stiffened." ~~ Billy Graham, Evangelist
Peace and anti-war activists gathered at Patriot's Park on Fort Campbell Boulevard Sunday afternoon for a multi-faceted event honoring the fallen soldiers and voicing support for our troops and their families while decrying Bush administration policies regarding the Iraq War.
Pacifists and Activists at Patriot's Park. Bill Larson Photo
The peaceful Memorial Day weekend event was designed to acknowledge the growing numbers of American dead in Iraq (Sunday's numbers for American dead in Iraq was 3,452), to say nothing of the devastating injuries (mental and physical) endured by our troops and the horrific number of civilian casualties among the Iraqi people. The statistics from the war were displayed on 4′ X 8′ signs on both sides of the park. The program acknowledged and honored those whose lives have been sacrificed to the country. «Read the rest of this article»
It is past time for us to support the troops. We have allowed our "leaders" to sacrifice them for far too long in this endless occupation of Iraq. There remain a few that still claim that we can "win" in Iraq, but I think that they, too, deep in their hearts know that that will never happen. We have allowed that nation to devolve into a civil war that we are powerless to prevent.
We told them to overthrow Sadaam Hussein, which they did. They won the war that Bush decided to wage. But then we left them there. As the years dragged on, we sent them back again and again — into a situation that got worse with each passing year. And they went back, again, and again, tempting fate each time. Some did not return to us and those who did were wounded in body or soul or both. «Read the rest of this article»
In the beginning there was Errol Flynn. Then Tyrone Power in The Black Swan. And always, a fiesty, pretty woman. A generation ago. Our next swashbucklers were intergalatic — the light saber play between Darth Vader and Luke Skywalker. Father and son. With pretty woman Princess Lea in between.
Today Johnny Deep swooshes and swaggers (more swoosh than swagger) across the big screen in Pirates of the Caribbean III: At World's End, another theme-park-ride swashbuckler that is better than Pirates II, but a long way from the charm and manic humor and first run surprises of the original film.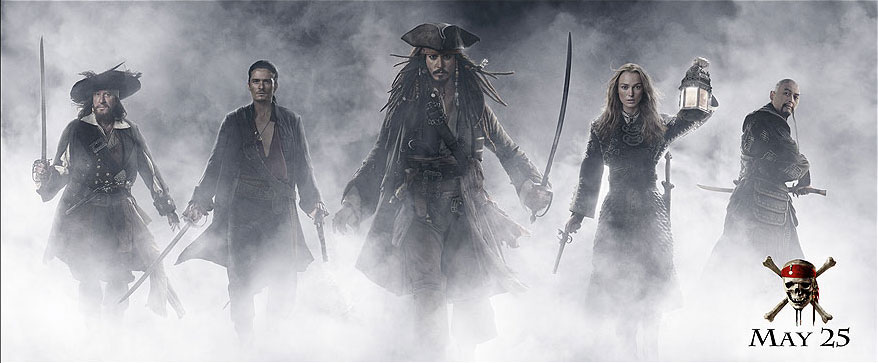 (Photo: Barbossa (Rush), Will Turner (Orlano Bloom), Jack Sparrow (Depp), (Elizabeth (Knightly) and Sao feng (Chow-Yung-Fat)
In the audience on opening night (5/24), fans decked out in Sparrow regalia were at least as amusing and swaggering as the on-screen original, and seemed to be having as much fun as Depp & Co did making this movie in the Bahamas. «Read the rest of this article»
It's summer (or close enough) and for those of us who are old enough to remember, Saturday night in summer meant one thing: drive-in movies. Stuff the car with friends, food and even a few folding chairs, and settle in for a triple feature under the stars. With the onslaught of Imax theaters, air-conditioned stadium seating, and surround sound, most of the drive-in theaters have been relegated to the realm of fond memories and the reality of strip malls. No more sultry summer nights before a big outdoor screen; forgotten is the scratchy sound from the little black boxes that hung on the car windows, or the camaraderie of sharing the contents of an ice-filled cooler, oversized grinders and semi-stale popcorn with the friends parked next to you on "$5.00 a carload" nights.
The movies that we watched live on, though, some offered for rental, some order-able on online, and others now living in "public domain" and available for free downloads. Over the course of the summer, I'll be taking a look at some of them. Might not be a bad idea to have your friends "drive" to your home on a Saturday night, pop up some fresh popcorn, order a pizza, and kick back for the best of the "B" (and a few "C' and "D") movies. «Read the rest of this article»

Saturday, June 2, in Hohenwald TN, the second annual Sonnenschein Festival will have music, nature, alternative energy and art! This years festival will be the biggest Green Power Festival in Middle Tennessee. This notice was sent out by Jennifer Dauksha-English.
It will include 25 green power speakers, an alternative vehicle and fuel exposition, two music stages powered by solar energy, a tour of alternative homes, an energy play shop for kids, an eco-film fest, the debut of Middle Tennessee's Green Living Journal and much more!! The festival opens June 1 with an Ecovillage Experience Weekend at the Ecovillage Training Center on the Farm Community in Summertown, TN and a Cumberland Greens Bioregional Council Gathering. «Read the rest of this article»