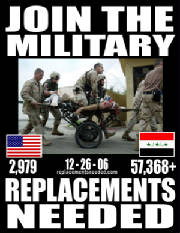 Replacements needed.
Despite the planned "surge" of additional U.S. troops in Iraq, the body count of American soldiers killed there seems to have slowed bit since the beginning of summer, but Battlefield Iraq remains bloodied — in many cases, by the lifeblood of bystanders caught in the crossfire of a war supposedly "won" over three years ago.
As of Tuesday evening, August 28, Iraq had claimed the lives of 3,732 American soldiers. The most recent is Pasadena, California, Marine, Lance Corporal Rogelio A. Ramirez, whose home base was Camp Pendleton; he became the latest US casualty, according to the statistical website icasualties.org. Ramirez died in Al Anbar province in "combat operations." He was #3732.
While the stream of flag draped coffins has slowed from the heavy casualty reports of early summer, the Iraq landscape remains soaked in blood. Four people, Shi'ite pilgrims to a religious site in Kerbala, were killed, and 18 others wounded today. In another Iraq city, 35 people were killed and 180 injured at a Shia religious festival. Now an estimated 1,000,000 pilgrims have been ordered to abandon a major spiritual celebration in Kerbala, told to simply leave the city and put their faith on hold as some of their numbers are being slaughtered and the rest are potential targets in a mix of civil and holy wars. And that's just today. The American body count will continue to climb with each day, each week of deployment. And American blood and Iraqi blood all look the same in the sand. «Read the rest of this article»