The V Monologues are coming. The Vagina Monologues. Vagina. Vagina. The first time I saw the play I kept worrying that someone would see how freaked out I was. I sat stiff as a board in my chair, laughing, but uncomfortably.
The next time I saw the monologues I was at least over the shock of it. I've seen them probably seven times, right here in Clarksville. Usually I either love certain monologues or hate them. I figured out that seeing the monologues pushes every button my mother ever had. I'm in my 50's and my mother never, ever said the V word, or the S word for that matter. I think she would die if she was made to watch the monologues and so too, almost did I. That's why they are so damned important.
I was so sick of seeing the vagina monologues over and over that I signed up for the class at APSU. Why do we have to force ourselves to go see the vagina monologues? Who wants to hear a bunch of rowdy girls say nasty stories about their secret body parts?
I always "got" that if we own our female parts, then that is a good thing. But I had no idea that this issue is a deadly serious one. We saw the movie, V-Day, Until the Violence Stops, a documentary film that examines the stories and the issues that inspired Eve Ensler's bold and magnificent play, and explains why the vagina monologues are so important. There was a bigger picture, a wider opening to the whole situation. Here are some quotes from the movie:
Our female bodies are a mystery. We don't know pleasure and how to talk about it, so we sure don't talk about when we're sexually assaulted.
One in three women are raped, mutilated or beaten.
FEAR and GUILT take away power and spirit. Most women feel like it is their fault that they were raped or assaulted. Instead of enjoying their bodies and creativity, they live in silent terror.


When you release your story it becomes the world's story. Women who finally stop hiding their stories realize that they were not responsible for having bad things happen to them.

RESPECT goes to those who: EXPECT it, COMMAND it and REFUSE to live without it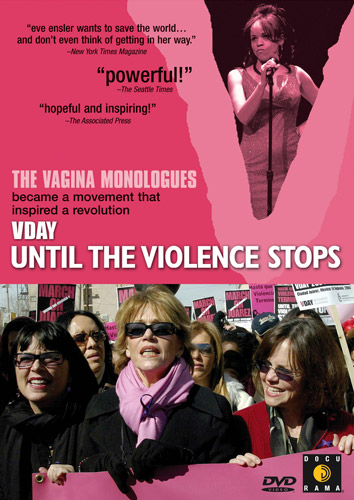 V-Day Until the Violence Stops explains why there is The Vagina Monologues. Vagina Monologues is a very loud way of declaring ownership of our female sex organs. It is monologues written and collected from women. It is witty, funny and powerful.
The V-Day movie adds a deeper, more meaningful dimension to the monologues. It spells out what women have been undergoing, accepting, hiding, and how they have been curtailing their own power. It is a most powerful voice in the campaign to end violence against women.
Ignoring the vagina does not work. Shutting up and shutting down does not benefit anyone. Vagina Monologues author Eve Ensler believes that when we say NO to violence, the perpetrators will have to start healing themselves. That's the only place they will have left to turn.
The Women's Studies program is showing the film V-Day, Until the Violence Stops, on Wednesday, Feb 6th at 7 p.m., room 308 in the University Center.  Free and open to the public.
Editor's Note: Eve Ensler's accclaimed play, The Vagina Monologues, is currently playing its final weekend (Feb,1-2 at at 7 p.m. in the Roxy Regional Theater's "Other Space." For ticket information, call the Roxy at 931.645.7699).