As a little girl, one of the stories my mother told me was of a trip to New York City with fellow singers to see a Carnegie Hall concert. My mother had other plans though, an ulterior motive for this Big Apple sojourn, and gave up Carnegie Hall for a chance to see a new young heart throb, a skinny crooner with dreamy blue eyes in one of his earliest performances … Frank Sinatra. It was 1942.
For nearly 60 years, old blues eyes — Frank Sinatra — was larger than life, a singer, movie star, and worldwide legend with 1300 songs to his credit. The Roxy Regional Theater captures a collection of the very best in their current production of My Way: A Musical Tribute to Frank Sinatra.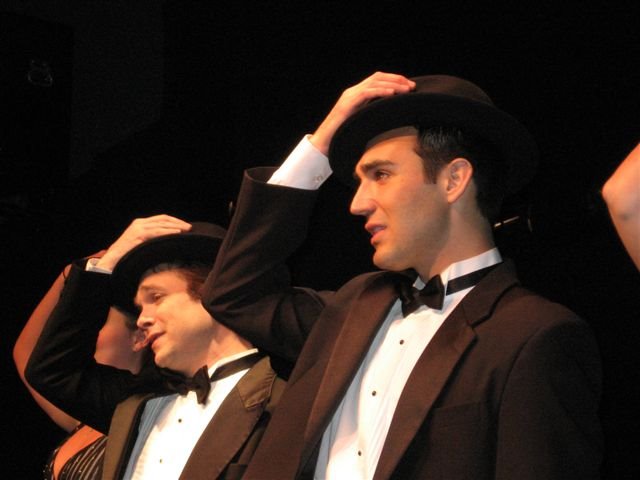 Even before the show began the mood was set with soft music from yesterday that hasn't lost is charm — hummable, dance-able music that continues to endure. As the combo took their seats and began to play, as the singers stepped back in time, they carried their audience with them all the way.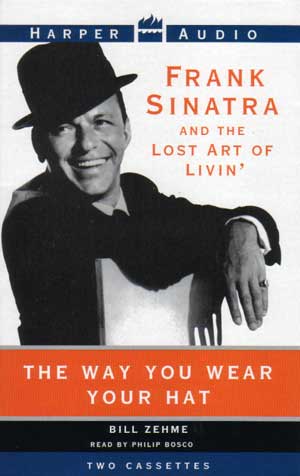 Working through a collection of medleys, the show opens with Strangers in the Night, and quickly moves through over 50 of those hits: you probably know most of them, at least by tune — The Way You Look Tonight, I've Got the World on a String, High Hopes, I Get a Kick Out of You, Chicago, New York New York, Summer Wind, The Tender Trap, Witchcraft, The Lady is Tramp, Luck be a Lady, That Old Black Magic, Fly Me To The Moon… My toes were tapping out the tunes, I was mouthing the words, I was wishing for a shot at that dance floor and my ballroom partner to whirl me around that floor…
Noah Aberlin, Tiffany Herlieu, Allyson Pace and John Winters gave us the songs, moving up, down and around the minimalist stage, backed by a combo including piano and bass, moving in and out of dance steps choreographed by Michael Hartman. Smooth moves, a hint of rhumba here, a touch of tango there. A quick shimmy of shoulder or hip. Subtleties with a hint of sex appeal.
To the left on the set was a simple bar, a few stools, and the perennial martinis (not accompanied by cigarettes) that were trademarks of the Sinatra lifestyle. It was a stylish production, with male singers in tuxedos and occasionally the classic fedora, while Herlieu and Pace wore black cocktail dresses.
The set included a jazzy backdrop of musical notes, bold keyboard and colorful musicians. The lobby area included original paintings of the Sinatra years including Rat pack buddies Sammy Davis Jr., and Dean Martin, rendered by artists Larry Martin (set design) and Jeff Bertrand, Charles Bennett (painting below of Sinatra at the Sands, reminiscent of the Las Vegas "Rat Pack" era) and Brant Hardin.
My Way ended with a reprise of Sinatra's New York New York mega-hit, a triumphant My Way, and the haunting I'll Be Seeing You. As the sound faded, that oh-so-familiar fedora hung over the vintage microphone. The lights dimmed and went black.
My guest for this show, my 19-year-old granddaughter, said "you were having so much fun, Grandma." Then she looked up with her big brown eyes and asked "can you teach me to dance like that?" Oh, yes I can, sweetie. Now if we could just get this combo, these singers, to play in a local club some night…
The show runs through March 1. For ticket information, call the Roxy box office at931-645-7699.
Photos by Debbie Boen