Area residents concerned about school zone safety, police presence, zoning requests and unsightly neighbors

Residents of City Wards 2 and 3 attended a town hall meeting yesterday evening at Park Lane Church of the Nazarene on Cunningham Lane. The gathering was hosted by Council representatives Deanna Maclaughlin and James Lewis. CPD District One officers were guest presenters.
MacLaughlin reminded those in attendance that May 2nd is the last day for Street Department yard debris pick-up. Debris must be cardboard boxes or paper leaf bags. It must stacked at the street. Call 645-7464 to schedule pick-up. Pick-up may be delayed up to ten days. City pool passes go on sale Monday, May 5, with new pricing. Details are available at the Parks and Recreation Office, 104 Public Square, Monday thru Friday 8 AM to 4:30 PM, beginning May 5. Utility bills must be provided as proof of Clarksville city residence. Call 645-7476 for more information.
CPD District One officers Cain and Daley gave the residents an update on the department's Explorer program. The program is a serious effort designed to give participants a realistic idea of what a career in law enforcement entails. Personal conduct is accountable. Mistakes have consequences. The program has a small staff and the students are considered to be 'on the clock,' the same as the officers who work with them.
When asked about additional school zone speed limit signs along Cunningham Lane, Officer Daley said that placing those signs is not the purview of the police department. He noted that while Tiny Town Road has a 20 MPH School Zone sign in the area fronting the entrance to Barkers Mill Elementary School, the actual access road to the school has a 30 MPH speed limit because it's an access road. He agreed drivers need to be more observant of school zone speed limits and slow down. Councilman Lewis said he would look into these situations.
Officer Cain reported he had just completed his formal bicycle training course and was one of only four bicycle officers on the force. Utilizing the bicycles allows the officers to more rapidly intercept wrongdoers and get to troubled areas before offenders have a chance to disappear into the surroundings. He also spoke of Problem Oriented Policing. This is where residents may have issues which they feel do not warrant a call to 911 but are still of concern to them. At such times, they can call the district and lodge a complaint or concern and an officer will contact them and discuss their issues. He also noted that with a population of over 125,000, there is a CPD officer for every 5,700 residents and currently only two active in Problem Oriented Policing. Other districts are suppose to be activating their own teams as volunteers become available.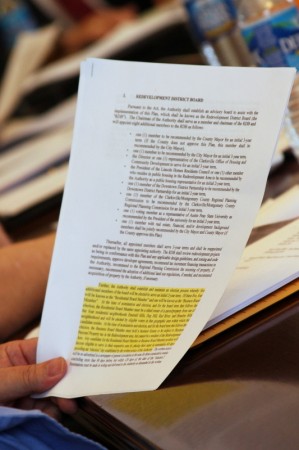 Councilwoman MacLaughlin reviewed the agenda of the April 24th Executive Session. There were questions about the zoning change requests at Evans Road and Purple Heart Parkway and at Wilma Rudolph Blvd and Union Hall Road (along Needmore Rd). One resident complained of an unsightly residence in his neghborhood where the occupants were acting to the detriment of the overall aesthetics of the area. MacLaughlin noted that if more than ten percent of the property had been modified without a permit, they could face legal repercussions.
The second reading of the redevelopment plan ordinance was next on the agenda and MacLaughlin explained that amendments had been added following the March 20th town hall meeting at Burt School. She noted that concerns about seniors on fixed incomes whom might not be able to fund repairs or modifications to their homes could seek CDBG funds for that purpose thru the City Housing Authority. Rita Arancibia provided that information to the council at its April 24th executive session.
Additionally, each neighborhood in affected by the redevelopment plan will be able to elect a single representative to the Redevelopment Design Board. Also, one representative for business and business property owners would be elected by all neighborhood residents.
Becky MacMahan and Debbie Hunt (at left) addressed the residents, explaining their reasons for opposition to the plan and asked Ward 2 and 3 residents to tell their council representatives to reject this plan as flawed.
The next voting session of the City Council is slated for May 8. The next home game of the Clarksville Fox, a semi-pro women's football team is May 10 at Northwest High School, 7 PM. The new Gateway Medical Center will host a Public Open House on Sunday, May 18, 1 – 4 PM. Patient transfer move-in will be assisted by County Sheriff Department deputies traffic control.

CPD Officer Daley talks to residents; County Commissioner Brockman listens.
CPD Officer Cain speaks with Councilman Lewis; Rita Arancibia talks with Councilman Marc Harris and Rid River resident Rev. George Fort.