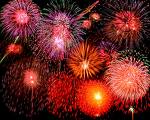 The City of Clarksville's Independence Day Celebration will be a celebration for all ages, featuring music and fireworks for the Grand Finale! The event takes place July 3rd at McGregor Park• 5:00 P.M. to 10:00 P.M. A spectacular fireworks will cap off this holiday celebration.
The display on the river includes is choreographed to a patriotic soundtrack and will be broadcast on Q108, The Beaver 100.3 FM, Z 97.5 and Eagle 94.3 radio stations during the show.
Performing for this event are the 100th Division Rock Band (US Army Reserves) from Ft. Knox, KY; Hypertension, and Chris Robertson & The Country Music Band.
For more information or for ADA assistance with this event, please call (931) 645-7444.