The premier holiday of the summer symbolizes more than a time for grilling, fireworks and road trips and just general fun stuff!
The 4th of July is widely acknowledged as "THE Summer Holiday" here in the United States. The traditional events of the day are well enshrined in our popular culture. People are planning big family cookouts, grilling, barbecuing, pool parties, sports events of all kinds- baseball, soccer, softball, badminton, volleyball, swimming, bicycling and small and super fireworks displays – all typical holiday celebration activities.
Yet there is far more to this holiday of holidays, this one uniquely American blowout. Sacrifices have been made that allow us to engage in these festivities. The lives which have been been laid down that allow us these exercises of indulgence also need to be acknowledged. There are so many individual sacrifices that have occurred in the course of our history that have received little, if any, recognition. What follows is a somewhat skewered collection of notable moments that have added to our American story.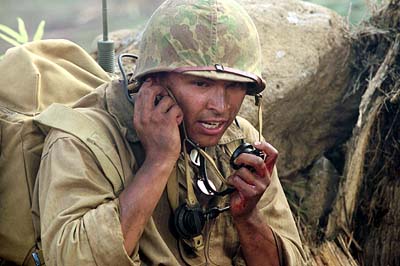 From the early settlement attempts in the colonies to the successful establishments of Plymouth Colony, Virginia Colony and Charleston, South Carolina, Native Americans aided settlers in a myriad of ways. With the turf wars of the French, Spanish and English, lives were upended with sometimes tragic results, many Northeast tribes lost their ancestral lands and independence.
The continued advance of the emerging nation came at the expense of the native people who already resided in these fertile soils. As the American nation continued to grow and expand, the Native American peoples found themselves at odds with the European settlers. The western expansion saw former slaves and freedmen serving in the segregated US Army Cavalry. These men served proudly facing hostile Native Americans, segregation and racial prejudice and hatred from within the Army structure itself as well as the settlers and townspeople they guarded and escorted to and on the western frontier.
From Crispus Attucks falling in the opening volley in the preclude of the American Revolution, through the full blown agony of the Civil War, or as some would call it, The War Between the States, to the sacrifices made by the brave and gallant men Native Americans called "Buffalo Soldiers" in opening up the American Western Frontier, to the many who came forward in World War I and again in World War II, the Korean War, Vietnam. Even now Afghanistan and Iraq claim American military servicemembers lives on a weekly, if not daily, basis. Significant achievements are lost in the haze of our smoke-filled celebratory night skies and patriotic band music.
Here then are a few of the little notes which have also played a part in America's story and should be honored:
From the very start, Native Americans did not reject the new arrivals upon their shore, those New World colonists who would decimate their world, population and culture in later years to come. Lewis and Clark's Corps of Discovery Expedition was greatly enhanced by their guide, Sacajawea, the Native American woman of the Lemhi Shosone nation.
Africans brought to this country as human chattel became skilled craftsmen and professionals and built much of America's treasures. Even before slavery, Chicago and Washington D.C. were both designed by skilled engineers who were of African descent. Many scientific advances which have greatly improved and enhanced our lives can be traced back to African Americans:
George Washington Carver and his myriad of inventions from peanuts, sweet potatoes, soybeans and pecans include a rubber substitute, adhesives, foodstuffs, dyes, pigments, and many other products;
Dr. Charles R. Drew and his advances in plasma led to today's storage of blood and use of plasma;
Elijah McCoy, a mechanical engineer and inventor, invented the steam engine lubricator, air-brakes for trains, and an automatic train coupler. His high-quality inventions were the source of the expression 'the real McCoy', meaning the real, authentic, or high-quality thing;
George Crum invented the potato chip;
Garrett Morgan invented the gas mask and the traffic signal light.
Despite Hollywood's depiction to the opposite, America's wars have seen her all of people step forward. Native Americans and African Americans, and other minorities have all fought for this nation and shed their blood. During World War II, the language of the Native Americans became a tool of the war, the "Wind Talkers" used their native language as code to confound the Japanese as they relayed instructions and battlefield information by radio.
Guion Bluford (l) became NASA's first African American astronaut, and Mae Jemison (r) became the first African American female astronaut. Fred Gregory was the first African-American Space Shuttle pilot.

Gregory also became the first African-American to command a spaceflight when he led the STS-33 mission of Discovery in 1989. After his third and final flight in 1991, Gregory has worked his way up through the management at NASA to become Deputy Administrator. Since 2005, he has served as NASA's Chief Administrator, leading our nation's space flight program.
Among NASA's greatest heroes is astronaut Mike Anderson, (l) who perished in February 2003 in the loss of the Space Shuttle Columbia on its STS-107 mission. Anderson was serving as the payload commander on the mission, his second spaceflight, when the Shuttle and its seven member crew was lost during re-entry.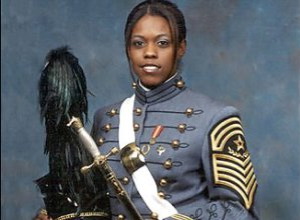 America's story is best reflected through the lives of those not so celebrated but noteworthy for their individual achievements. As such, may we offer Lt. Emily Perez for your reflection. This West Point Graduate was the first African American female to achieve the rank of Corps Command Sergeant Major. She served in Iraq, where she died in service to her country.
As we rejoice and celebrate this holiday weekend, let us be mindful that America's story truly is a tapestry of many colors, colors that are not monotone, but vivid and diverse. Let us be mindful that truly, "This land is your land, This land is my land. This land was made for you and for me!"
It's past time to look at all the pages of America's family album!