Clarksville Online spent several days at Outlaw Field in late September, garnering a new respect and understanding of the role this small airfield and its' businesses bring to the community. Over the next four days, we'll give you an inside look at the business and the adventure that is Outlaw Field.

Local airfield serves up multitude of aviation and aerial activity. Private flights, flight training and skydiving bring diverse family clientele to an unsung city and county resource.
Outlaw Field. Do you know where it is? Do you know what goes on out there? Chances are, most Clarksvillians don't know much about the beehive that is Outlaw Field.
The local aviation facility serves as the basis for a myriad of aviation activity. Private pilots house their private planes and jets there. But there is much more than that going on at this unassuming little facility.
Interested in learning to fly, getting your pilot's license? Outlaw Field has provisions to assist the budding pilot. Youngsters wishing to investigate and pursue flight instruction can join the CAP (Civilian Air Patrol).
People as young as 13 can sign up and learn about aviation, flight training and public service. Brooks Louie at 13 is taking flight lesson #2, and already has a dream of aviation and future study at the United States Air Force Academy.
Family participation high on your list? Outlaw Field's got options for you. The adventurous and the thrill-seeker will find their satisfaction at Adventure Skydiving Experience.
Learn and train to skydive and then fulfill your dreams as you actually board the plane and finally step out into the wide blue skies, soaring like an eagle! You may actually soar with one if you're lucky!
Additionally, you can try tandem jumps, where non-experienced skydivers are anchored to a professional skydiver, enabling them to experience the thrill of the biggest rush you can have, legally! They make great birthday and anniversary gifts.
Indeed, this writer witnessed a middle-aged mother suiting up for her birthday gift tandem jump while visiting the airfield. I watched her land and saw firsthand the thrilled look on her face as she came back into the terminal. She was jubilant and enthused. Her grandchildren were excited to see their grandmother flying "just like daddy!"
Families do get involved in this sport, young and old, male and female, able-bodied or not so able-bodied. It's incredible to see the enthusiasm evidenced by those participating in this sport. On these action packed weekends, it is not unusual to see children scrambling around the the terminal and on the tarps spread out on the lawn where jumpers (their moms and dads) untangle and re-pack their silks.
Giving back to the community is also something that happens at Outlaw Field. On the weekend I first visited, the 'Thank You Foundation' had hosted courtesy tandem jumps for wounded veterans. While I didn't arrive in time to view the spectacle, the camaraderie that hung in the air was fully palpable even after the jumps were concluded.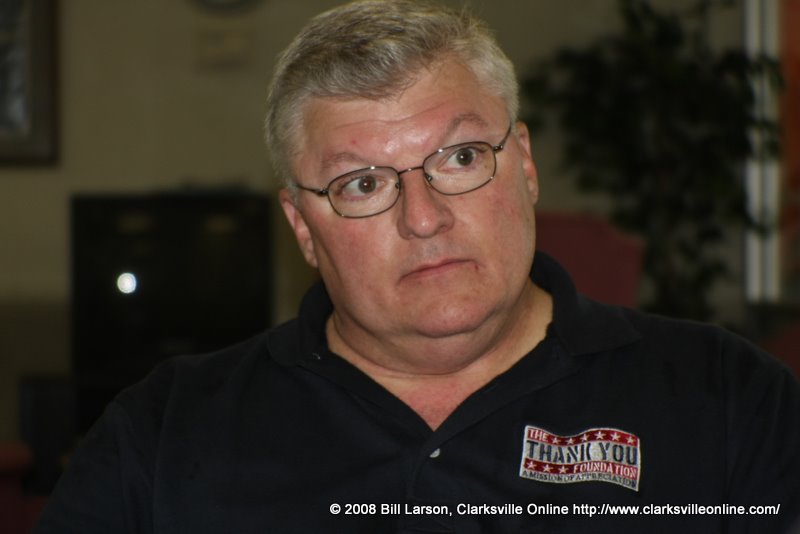 Volunteers came to pack chutes, aid the wounded soldiers and veterans in suiting up and making sure the experience was nothing but pure pleasure for their fellow brothers. Active duty, retired and civilians all teamed up to make the day a true gift to these wonderful people. Terry Morgan coordinated the tandem jump event.
Naturally with all this activity under one roof, hunger must be satisfied. Again, Outlaw Field answers the call. The airport cafe is a full service eatery of taste tempting traditional American fare. Whether it be breakfast — don't miss the opportunity to try the hash browns casserole! — to the lunch specials, this cafe serves it hot, plentiful and good. The First Class Burger and Fries will satisfy the most ardent appetite. The iced tea hits the thirst spot with complete satisfaction.
If you have ever wondered what it would be like to pilot a plane or jump out of one, Outlaw Field is your natural destination. Satisfy your curiosity and gain a new perspective on your world. Discover Outlaw Field and discover the world of the skies.
[Uncredited photo by Turner McCullough Jr.]