Clarksville Freethinker founder reacts to Obama's win. Debbie Boen created FreeThinkers for Peace and Civil Liberties at a time when America was more than happy to plunge into war. Like the activists of the 60s, she held to her beliefs, a minority then, and only now, with the historic election of Barack Obama, can she and all of us who have stood in the minority in one form or another, see a light of hope on the horizon.
As I was driving to the Icehouse café on Tuesday night, NPR (National Public Radio) said something about declaring Obama and I didn't get what had happened.  I walked into the cafe and everyone was watching the big screen TV.  There was a screaming crowd on the TV set.  The scream of happiness from the TV crowd of thousands didn't stop and seemed to shake the earth.  I swear I could feel the vibration of it come from the earth into my body.  Miranda Herrick ran up to me and said, "Did you hear what just happened?  Obama is declared a winner!  Why are we NOT screaming?  Why are we NOT screaming?"  and with that we both started screaming and again and again.
Hugs.  Screaming.  Jumping up and down.  Tears.  Stacy Smith Segovia took a picture of me being excited.  I realized that this was personal history:  me feeling truly excited.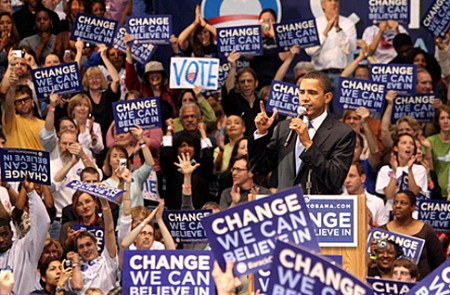 Gikuyu and I talked.  I forgot how to feel exhilaration, I said.  It's so unfamiliar.  Brandt Hardin sat down with tears in his eyes.  Each of them had a respect for me and the work I had been doing for several years.  Miranda had given me the place to hold the first meeting of the Freethinkers (for peace and civil liberties).  Gikuyu and Brandt put together the Tour of Wurdz and used it to give people their voices of dissent.  Brandt's political art show Tuesday night at the Icehouse was made on the pages of the tiny Bill of Rights that I had given him.  (do go see it!)
Last night seemed like a first time I had dared to feel.  For the last four to six years my life has been riding on a horrible dread that I had to push down in order to function.  The happiness I felt had been forced.  I hadn't been all the way HERE.  Finding humor had to be rediscovered.  Finding the good in things had become a destiny for personal health and for the health of the community.  Being a part of Clarksville Online had become a most valuable and commendable asset to our community in that line.
Maybe instead of getting all worked up, I should have chosen to be "dumb and happy," as my father-in-law likes to say.  But when those planes flew into the towers my husband and I thought, "Oh no.  What is he (Bush) going to use this to do?"
When my daughter got married, I was happy for her but secretly hoping that she would not bring children into this future.  When we celebrated holidays, it was a forced happiness for me.  I can't say everything was phony because some of my richest experiences were about the dissention we were able to cause and the celebrations we had despite oppression.  I'm going to say that the bad things this country has been doing is yet to be exposed.  The stuff we already know is nothing compared to what is hidden.  We were lucky to have had the torture and such exposed.  It always interests me how bad it had gotten and how many still did nothing and how many still supported it.  How low does it have to get to really shock some into action?
Knowledge is power although we each had to struggle with our own feelings of dread related to it and how much action we could take in the face of that dread.  Most of us are bound to not go down being stupid.  The events the Freethinkers did run, vigils and protests, had a double purpose of dissension and also of moving our bodies.  Taking one step, one honk, one appearance to a function that puts motion into the body again.  Move.  Despite.  Opposition.  We made ourselves find a forced feeling of safety when we felt threatened to shut up.  It was too much like the Nazi's and I think you know that.  Having our neighbors threaten us.  Having our neighbors dehumanize us for disagreeing.  Having no media.
Our country had taken a wrong path at the crossroads.  Like someone who chooses crime as a path, if you go down the wrong path too long it can become impossible to turn back.  You get caught, get thrown in jail.  Your bad record gets created and the hole gets deeper and harder to climb out of.  This wrong path could have been continued but instead we, as a country, chose to turn around and go back.  Go back to the crossroads and chose a different path.  A path of decency instead of war and bullying.  Maybe it was necessary to experience the wrong path for awhile.  How many thousands died because of it.  It was a scary wrong path.  Like the other wrong paths we try not to think about:  the genocides of Native Americans, of women during the witch trials, the Jews, the Crusades and so many more.
So thanks to America for not being happy in lower states of fear and bullyness.  You demand better.  Several of the folks who got the tally at different Clarksville voting precincts found that Obama lost to McCain by only a few votes.  I'm sure he did really well in Nashville.  That is success!
Last night I was very happy to be with others who saw Michael Moore in Nashville just before the election of 2004.  We've all had this core feeling of dissent since that event.  The Michael Moore fireball really woke me up to what action is possible.  After the election of 2004 several of us put together the Clarksville Freethinkers for Peace and Civil Liberties.  I gave workshops on understanding apathy and moving through the emotions up to positive anger.  I bought mini Bill of Rights books to hand out.  Mary Alice and I started a newsletter.  We held meetings at the library.  Held weekly vigils in public square about the war for a year.  Joined in MoveOn efforts.  Several people wrote letters to the editor of the Leaf (Chronicle).  Joined Gathering to Save our Democracy in their attempts to get verifiable elections in Tenn.  Went to Democrat meetings.  Went to war protests in Nashville. Went to civil rights meetings.  Made signs.  Made art.  Sat at the parks with statistics of the war signs.  Turned our backs on the Bush motorcade when it passed through Kentucky.  Did this when the Democrat Party and most of the country acted frozen.
Some of the many others who inspired me were:
My grandfather and the one time I heard him tell a friend how Hitler destroyed his opposition.  Grandpa loved this country more than anyone I know and he showed me that I still had the power and necessity to do something now, before it's too late.
Bernie Ellis and Gathering to Save our Democracy for speaking the truth and doing something about election fraud.  By the next major election, Tennessee will have verifiable voting machines.
Cindy Sheehan, a warrior just like us, who was determined to bring Bush down and did it when she broke through the main stream media wall.
Chris Lugo who put together and reported on peaceful dissention to the war.
Christine Pieysk who turned a breeze into a flurry of powerful action and words.
Bill Larson who created ClarksvilleOnLine; what a gift to our city and to our voices!
Civil Liberty leaders Terry and Wanda McMoore.
Blayne Clement and Kim.  Tom Payne.  Beth and Faith Robinson.  Jill Eichhorn.
Sarah of Boulder.  David Boen.  Randall Boen.  Alma Sanford.  Miyo and Jordi Kachi.  Nancy and Daren.  Gerry Gilman (go, go, go!).  Deborah Bowles.  Kitty.  Beverly.  Barry, Ted and Hannah Kitterman.  Tracy Diven.  Leslie Pierce. Gregg Schlanger (creator of the Eternal Flame monument, "Pillar of Clouds, Pillar of Fire").
MoveOn.org who united this country.
The web which did the real reporting. So many others!
Others who inspired life:  Annette Cunningham, UU Clarksville, APSU, ARTZ and Gabriele and Bob Wardeiner, Tom Thayer and John McDonald of the Roxy Regional Theatre, Downtown Artist's Co-op, NYC, Silke's, The Looking Glass, Tandoor, Suva and Jack Bastin.
I feel like I have awoke from a nightmare.  Am I all the way awake yet?  Will I remember just how bad it got?  Will I learn?
Before the next step I feel the need to really, really celebrate.
This is not an ending but a (difficult) climbing out of the hole and creating a new beginning.  Time to put on a different pair of shoes.
Again I thank Clarksville Online for being 3 steps ahead in that game.
Thanks to you for being on (this mailing list).  In connection there is definite power.
About Debbie Boen
Debbie and her family moved to Clarksville slightly after the tornado of 1999. Debbie founded the group, Clarksville Freethinkers for Peace and Civil Liberties, in 2004. She participated in Gathering to Save Our Democracy, a group dedicated to obtaining free and verifiable elections in Tennessee. She has supported groups including the NAACP, Nashville Peace Coalition, PFLAG, Friends of Dunbar Cave and the Mountain Top Removal Series of Films and speakers. She participated as an artist in the ARTZ gallery group in Clarksville and won Best of Show, First and 2 Second Place awards for four of her sculptures. She won a voter's choice award for a performance at the Roxy Regional Theatre. She is a wife, mother and cancer survivor. She is always amazed at the capabilities of the human spirit, and the wisdom to find humor when there is none.
Sections
News, Opinion, Politics

Topics
Bush regime, Clarksville Online, FreeThinkers for Peace and Civil Liberties, Icehouse Cafe, Iraq, Michael Moore, moveon.org, War