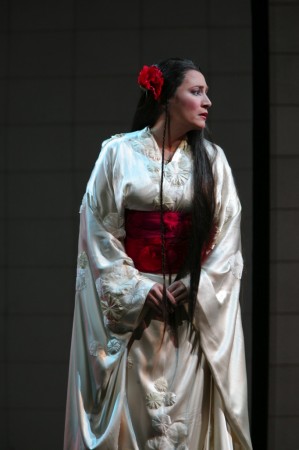 The Met Live in HD continues to captivate a worldwide audience, bringing live, high definition productions of the world's greatest opera to millions of worldwide viewers. The series continues  with Puccini's hauntingly beautiful love story, Madama Butterfly, which will be screened at several Nashville venues on Saturday, March 7 at 12 noon (CST).
Opry Mills Stadium 20 Plus IMAX, 570 Opry Mills Drive and  Green Hills Stadium 16, 3815 Greenhills Village Drive, both in Nashville, will screen the live broadcast. In addition, for those who will miss the Saturday showing, Green Hills will screen encore showings on March 18 at 7 p.m. and March 18 at 1 p.m. Running time is three hours and 21 minutes, with two intermissions.
Patricia Racette returns to the title role of Anthony Minghella's stunning production, a new classic of the Met repertory, opposite Marcello Giordani. Conducting is Patrick Summers, with production by Anthony Minghella, Patricia Racette and Marcello Giordani.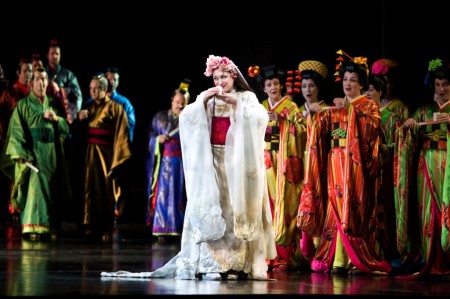 ACT I: Madame Butterfly is set in 19th century Nagasaki, and tells the story of Lieutenant B. F. Pinkerton, U.S.N., who is about to  contract a "Japanese marriage" with Cio-Cio-San,  called Butterfly by her friends. Even as Pinkerton explores the little house in which he plans to live with Butterfly,  his plans fall into immediate disfavor with the American Consul, who fears that what may be a mere matter of pastime to the American Naval lieutenant, may have been taken seriously by the Japanese girl and, if so, may prove a matter of life or death with her. In truth, Butterfly is in love, and has renounced faith and family to be with Pinkerton, placing her life in his hands.
It is customary with Puccini to create "atmosphere" of time and place through the medium of the early scenes of his operas. It is only necessary to recall the opening episodes in the first acts of "La Bohème" and "Tosca." He has done the same thing in "Madam Butterfly," by the employment of the Japanese theme already referred to, and by the crowded episodes attending the arrival of Butterfly and the performance of the ceremony. These episodes are full of action and colour, and distinctly Japanese in the impression they make. Moreover, they afford the only opportunity throughout the entire opera to employ the chorus upon the open stage. It is heard again in the second act, but only behind the scenes and humming in order to give the effect of distance.
The love scene between Pinkerton and Butterfly is extended. From its beginning, "Viene la sera" (Evening is falling), to the end, its interest never flags. It is full of beautiful melody charged with sentiment and passion, yet varied with lighter passages, like Butterfly's "I am like the moon's little goddess"; "I used to think if anyone should want me"; and the exquisite, "Vogliatemi bene" (Ah, love me a little). There is a beautiful melody for Pinkerton, "Love, what fear holds you trembling." The climax of the love duet is reached in two impassioned phrases:– "Dolce notte! Quante stelle" (Night of rapture, stars unnumbered),
and "Oh! Quanti occhi fisi, attenti" (Oh, kindly heavens).
Act II, Part I: Three years have elapsed. It is a long time since Pinkerton has left Butterfly with the promise to return to her "when the robins nest." When the curtain rises, after an introduction, in which another Japanese theme is employed, Suzuki, although convinced that Pinkerton has deserted her mistress, is praying for his return. Butterfly is full of faith and trust. In chiding her devoted maid for doubting that Pinkerton will return, she draws in language and song a vivid picture of his home-coming and of their mutual joy therein: – "Un bel di vedremo" (Some day he'll come).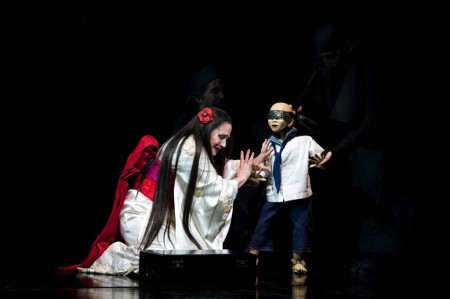 In point of fact, Pinkerton really is returning to Nagasaki, but with no idea of resuming relations with his Japanese wife. Indeed, before leaving America he has written to the Counsul asking him to let Butterfly know that he is married to an American wife, who will join him in Nagasaki. The Councel attempts to deliver his message, but is unable to do so because of the emotions aroused in Butterfly by the very sight of a letter from Pinkerto, which throws her into a transport of joy. The money left by Pinkerton with his little Japanese wife has dwindled almost to nothing, and poverty stares her in the face. Offered marriage to a Japanese man, she will not hear of such an alliance and protests that she is already married to Pinkerton, and will await his return.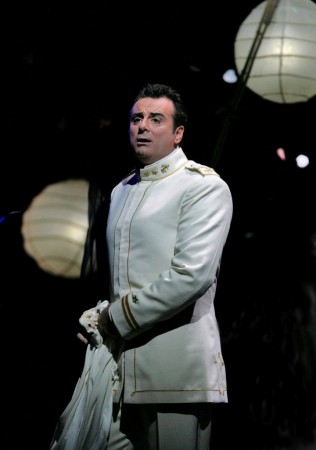 Act II, Part II. When the curtain rises, night has passed, dawn is breaking. Suzuki and the baby are fast asleep, but Butterfly still is watching. Again Puccini employs a Japanese melody (the "vigil" theme).
When Suzuki awakes, she persuades the poor little "wife" to go upstairs to rest, which Butterfly does only upon Suzuki's promise to awaken her as soon as Pinkerton arrives. Pinkerton and Sharpless appear. Suzuki at first is full of joyful surprise, which, however, soon gives way to consternation, when she learns the truth. Pinkerton himself, seeing about him the proofs of Butterfly's complete loyalty to him, realizes the heartlessness of his own conduct. There is a dramatic trio for Pinkerton, the Counsul, and Suzuki. Pinkerton who cannot bear to face the situation, rushes away, leaving it to the Counsul to settle matters as best he can.
Butterfly has become aware that people are below. Suzuki tries to prevent her coming down, but she appears radiantly happy, for she expects to find her husband. The pathos of the scene in which she learns the truth is difficult to describe. But she does not burst into lamentations. With a gentleness which has been characteristic of her throughout, she bears the blow. She even expresses the wish to Kate, Pinkerton's real wife, that she may experience all happiness, and sends word to Pinkerton that, if he will come for his son in half an hour, he can have him.
The Counsel and Mrs. Pinkerton withdraw. In a scene of tragic power, Butterfly mortally wounds herself with her father's sword, the blade of which bears the inscription, "To die with honour when one can no longer live with honour," drags herself across the floor to where the boy is playing with his toys and waving a little American flag, and expires just as Pinkerton enters to take away the son whom thus she gives up to him.
The Met Live in HD  has been seen in almost 850 venues, with several performances remaining in the current season. A special presentation of The Audition, a documentary about the Met's 2007 National Council Auditions, will be seen in select theaters. Don't miss the chance to experience the Met at your local movie theater!