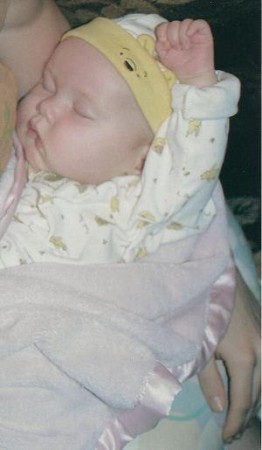 I still remember the first night I used the pink blanket. Elle-Girl was just a bit of a thing, barely two months old and was all wrinkly and fresh smelling from a nightly sponge bath. I laid her out on her changing table and rubbed her down with smooth lavender lotion. Next, I dressed her in new cotton pajamas and was ready to settle her down to sleep. On my way out of her bedroom, I picked a blanket off of the top of the neatly folded collection of baby blankets all given to us by family and friends before Elle-Girl was born.
This particular blanket was given to us by her Great-Grandmother.
The blanket was trimmed in pink satin and the blanket itself was of the softest flannel. It smelled of Ivory baby detergent and was so supple and flowy from never haven been used that it just enveloped our small little girl wrapping her in warmth and comfort. After nursing that night Elle-Girl drifted off into the deepest of sleep, (However, still not deep enough to sleep through the night) I decided that a child must have a blankie all their own to offer them years of comfort and I gave that particular blanket official "blankie rights".
Every night from that night on I made sure we had the blanket. I even went out to the department store it came from and bought a back up blanket, just in case. Elle really took to this one, we couldn't lose it!
As she grew bigger, we learned one of her "preferences" was, and she had many, that she did not like to be covered up. So in an attempt to keep the pink blanket around I began to spread the blanket on top of her crib sheet for her lay her face on. This idea actually helped her to begin to sleep through the night. Apparently another one of her preferences was a soft place to lay her head!
Here we are almost two years later and the pink blanket is still around. It is a little stiff and wiry from countless washes. The soft pink flannel is now a bit gray tinged and at times can have that little puppy smell. If you're a mother you know what smell I mean. The satin trim is thread bare and ripped in a few places from gnawing of tiny teeth cutting through soft gums. At times I find Elle-Girl bringing the sides up to her face while she is sleeping. Perhaps trying to recreate the memory of once being cuddled deep within its folds. Now, the blanket is quickly shrinking in size as my baby turns into a toddler. However, it only takes a moment for me to return to those baby days by rubbing the slick satin between my fingers and the smell of sweet lavender bedtime lotion returns to my senses.