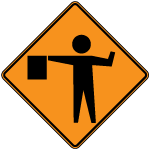 Susan McKee, an employee of Highways, Inc., died on June 8th after being struck by a vehicle as she flagged traffic along State Route 56 near the Putnam and Jackson County line.  The incident occurred just after 11:00 a.m.  Susan McKee was 41 years old and leaves behind three children.
"I speak for everyone here at the Tennessee Department of Transportation when I say our deepest sympathies are with the family and friends of Susan McKee who passed away earlier today after being struck by a vehicle while flagging traffic in a highway work zone.  Highway construction workers, and in particular the women and men who work as flaggers in our construction and maintenance zones, put their lives at risk every day to build and maintain our transportation system.  Unfortunately, incidents like this are all too common.  The death of Ms. McKee should serve as a reminder to all motorists of the importance of using the utmost caution when traveling through all highway work zones." – TDoT Commissioner Gerald Nicely
It is a good rule of thumb for drivers to slow down when workers or pedistrians are along the side of the road you are driving on, even if you are already going the posted speed limit. Be sure to keep especially alert when passing through a construction zone.