2009 Legislative Session Ends With New Choices for Care
NASHVILLE – During the 2009 legislative session, state lawmakers agreed with AARP's members and volunteers that Tennesseans need quality first in our long-term care system and that we deserve "more choices for care," AARP Tennessee State Director Rebecca Kelly said.
During the waning days of the session, the Legislature unanimously approved The Adult Care Homes Act, a bill endorsed by AARP that creates a new housing option for people who receive long-term care services but don't want to live in large nursing homes.
"This is major progress in AARP's decade-long effort to provide options in a state that ranks last in the nation in home and community-based alternatives," Kelly said.
"It's fitting that one year after Gov. Phil Bredesen signed the `Long-Term Care Community Choices Act,' lawmakers gave us a new choice that allows us to remain in our communities when we cannot stay in our homes,"  she said. "AARP looks forward to working with legislators next year to create more of these choices for care."
AARP advocacy volunteers also convinced lawmakers to address quality first in Tennessee nursing homes. A bill that would have restricted the legal rights of nursing home residents failed in a House subcommittee after AARP advocates testified about their concerns and issued a new report on the quality of care and litigation in nursing homes.*
"We hope to continue to work with representatives of the nursing home industry on legislation that will accomplish their goals and ours: lowering litigation costs so that more money and attention can be spent on the care of this state's frailest and neediest residents," Kelly said.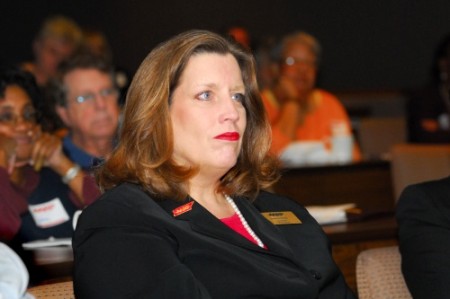 State lawmakers also passed a measure in the final hours of the session aimed at improving the quality of health care in Tennessee.
The legislation creates a health information database and Health Information Committee to provide valuable information on health practices and care. The database will allow the Division of Health Planning to analyze anonymous health claims from insurance companies across the state and develop policies to improve access, affordability and efficiency of health care in Tennessee.
AARP worked with the administration on the legislation to assure individual health records would remain private and give consumers a voice on the Health Information Committee, which will guide the implementation and use of the database.
Also during the final day of the session, the Legislature agreed to create a special Joint Committee to Study a New Department of Aging and Adult Services, which will examine the way Tennessee provides services to seniors and disabled adults.
The committee will consist of three House and three Senate members and the commissioners of the departments of Human Services, Health, and Finance and Administration. The three commissioners will serve as ex-officio members of the committee. The panel will make recommendations in a report to the General Assembly no later than Feb. 1, 2010.
AARP supported the legislation and will work with the committee to determine ways the state can more efficiently deliver services to our aging population and establish accountability standards for programs that serve the aging and disabled communities.
During the 2009 session, AARP also made strides in:
Consumer protection:
AARP helped convince lawmakers to study, rather than approve, a bill that would allow natural gas companies to "decouple" rates from the volume of sales as a way to increase conservation and energy efficiency. AARP was concerned that without appropriate safeguards, "decoupling" could result in a shift in business risk to consumers.
Voter protection:
AARP helped derail an effort to create stricter voter registration requirements. AARP was concerned that the legislation would limit or restrict access to the polls by people who now legally vote but don't have ready access to certain documents, particularly those who are older, disabled or low-income.
The report on nursing home quality is available through AARP Tennessee's web site at http://assets.aarp.org/www.aarp.org_/cs/misc/qualitynursinghomereporttn2009.pdf
About the American Association of Retired Persons
With more than 714,000 members in Tennessee, AARP is a nonprofit, nonpartisan membership organization that helps people 50+ have independence, choice and control in ways that are beneficial and affordable to them and society as a whole. We produce AARP The Magazine, published bimonthly; AARP Bulletin, our monthly newspaper; AARP Segunda Juventud, our bimonthly magazine in Spanish and English; NRTA Live & Learn, our quarterly newsletter for 50+ educators; and our website, AARP.org. AARP Foundation is an affiliated charity that provides security, protection, and empowerment to older persons in need with support from thousands of volunteers, donors, and sponsors. We have staffed offices in all 50 states, the District of Columbia, Puerto Rico, and the U.S. Virgin Islands.