Attention span is the length of time a person can devote to an activity before their mind wanders.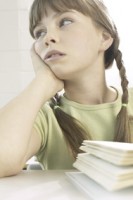 Psychologists vary on what they believe the "average" attention span of a child may be. Some assert that the child's age plus two minutes is the average. That means most kindergarteners (most are five years old) have a seven-minute attention span.
Others insist that the age of the child multiplied by three to five minutes is the average. These folks think that a six-year-old, or average first grader, can concentrate for 18 to 30 minutes. Few of these people have taught first grade.
Sales experts plan on a seven-minute attention span for an executive to listen to a sales presentation. Some college professors plan on a 20-minute attention span for their adult students.
Some researchers have determined that attention span is decreasing because most people watch seven- to eight-minute television shows that then switch to commercials. Others claim that our children have shorter attention spans depending on the amount of television or video games they play each day.
Whatever the attention span, the amount of learning is dependent on the ability to concentrate.
In Tennessee, our children are expected to pass the Tennessee Comprehensive Assessment Program (TCAP). This is also referred to as the Terra Nova. These tests are administered to children beginning in first or second grade until the high school student passes the Gateway test.
The testing times given below are from the Tennessee Department of Education website.
In first grade, reading and language arts has two parts. One lasts 27 minutes and the other 33 minutes. The teacher reads instructions on the tests and the students have a break between tests. The entire battery of tests includes not only reading and language arts, but mathematics, science, social studies, word analysis, vocabulary and mathematics computation. The total time for all tests together is 210 minutes, or three hours and a half.
By second grade, students take one 41-minute language arts test and a 34-minute one. Their entire testing time over three days this year was four hours and 25 minutes.
Testing in first and second grade does not count in the assessment of an elementary school. They are given to allow the children to practice test taking.
Third grade has the following schedule: reading and language arts, part 1, 68 minutes; part 2, 64 minutes; mathematics, part 1, 56 minutes; part 2, 54 minutes; science, part 1, 55 minutes; part 2, 55 minutes; social studies, part 1, 55 minutes; part 2, 55 minutes.
Fourth through eighth grades have the following schedule: reading and language arts, part 1, 64 minutes; part 2, 64 minutes; mathematics, part 1, 50 minutes; part 2; 48 minutes; science, both parts 1 and 2, 50 minutes each; social studies, part 1, 49 minutes; part 2, 48 minutes.
The success of each school is now measured by scores on these tests.
I have personally assisted in administering tests in second grade. For the first tests in early morning, the children's concentration was good. By the third test some were fidgeting; others were trying to go to sleep. At times even during the first early morning tests, I could see children whose minds were elsewhere; most would begin to concentrate again in a few minutes, but for those questions when they were "out to lunch," their answers were also.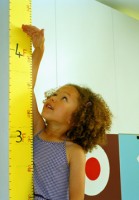 The questions are: How fair are we being to our children? Are we measuring them with a yardstick that is in its conception unfair? Can we expect a child to perform well when they are mentally incapable of concentrating for an unbearably long period of time? Can they really show us what they know when our testing process is based on a lack of common sense?
The premise of standardized testing is that all children can be taught the same thing and can accomplish the same goals no matter what brainpower, attention span, language development, reasoning skills, and environment they have.
Tests have their place in the educational system, but they do not always measure what a child knows—especially when the time period is longer than a child's attention span.